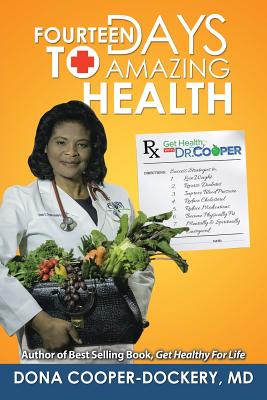 Fourteen Days to Amazing Health (Paperback)
Success Strategies to Lose Weight, Reverse Diabetes, Improve Blood Pressure, Reduce Cholesterol, Reduce Medications,
iUniverse, 9781532010873, 302pp.
Publication Date: March 27, 2017
Other Editions of This Title:
Hardcover (3/27/2017)
* Individual store prices may vary.
Description
Fourteen Days to Amazing Health is written to educate, inspire, and empower readers to take charge of their health and prevent and reverse chronic diseases using lifestyle modifications. As a physician practicing internal medicine for more than twenty-five years, Dr. Cooper-Dockery has been saddened by the fact that despite good-quality health care and the advancements in modern medical science, people are still developing chronic diseases and dying at an alarming rate. This has propelled her to offer a better alternative, one that will attack the root causes of diseases, build stronger immune systems, and promote good health and longevity.
The Fourteen Days to Amazing Health introduces a step-by-step approach to self-care using a plant-based diet, exercise, meditation, and inspirational readings. The book includes
- fourteen days of educational health topics;
- a fourteen-day meal plan;
- a three-level fitness program; and
- more than one hundred delicious, healthy recipes.
Dr. Cooper-Dockery has used this program at the Cooper Wellness Center for years to help patients lose weight and reverse diseases such as diabetes, heart disease, and obesity. Many patients are doing well, even reducing or eliminating medications. Access to this book is like having a personal physician, health coach, and motivational speaker at your side twenty-four hours a day. Welcome to the journey