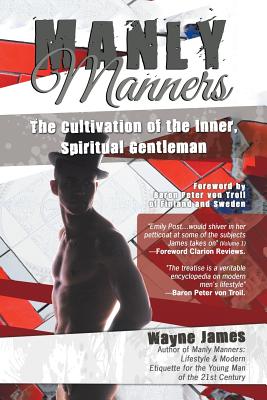 Manly Manners (Paperback)
The Cultivation of the Inner, Spiritual Gentleman
iUniverse, 9781532028168, 208pp.
Publication Date: September 19, 2017
* Individual store prices may vary.
Description
Manly Manners: The Cultivation of the Inner, Spiritual Gentleman is volume 2 of a three-volume treatise on modern men's manners and lifestyle by lawyer, fashion designer, former senator, and senate liaison to the White House Wayne James.
James maintains that ethics forms the foundation of etiquette. He offers both an expansion and deconstruction of the gentleman's motto: "Think good thoughts, feel good feelings, do good deeds." Manly Manners argues that good manners emanate from a man's good soul. For a man to be good toward others, he must first be fundamentally happy and at peace with himself. It answers a host of questions:
What characteristics define a true gentleman?
Was Jesus Christ truly more innately divine than other men?
How does a young man identify his genius--the thing he was born to do that he is better at than anyone else?
Is greatness everyone's birthright, or is it reserved for a chosen few?
Manly Manners Volume II provides the pathway for a gentleman's spiritual evolution and equilibrium.
"Emily Post ...would shiver in her petticoat at some of the subjects James takes on."
--Foreword Clarion Reviews
"The treatise is a veritable encyclopedia on modern men's lifestyle."
--Baron Peter von Troil