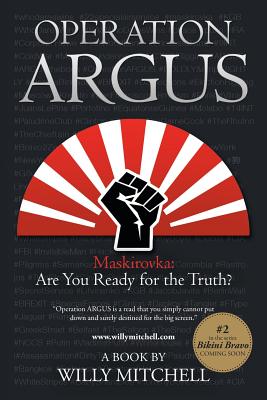 Operation Argus (Paperback)
Maskirovka: Are You Ready for the Truth?
iUniverse, 9781532047695, 338pp.
Publication Date: May 24, 2018
Other Editions of This Title:
Hardcover (5/24/2018)
* Individual store prices may vary.
Description
It is the final months of the 2016 campaign for the United States presidency. There is no question that the world is on edge. Mitch is a British Special Air Service leader who is cautiously going about his life and business. He has good reason. After all, his daughter, Bella, has already been a victim of a kidnapping. But when he and several former SAS soldiers are summoned from around the world to attend an operative's funeral, everything changes once again. It is not long before Mitch and his colleagues determine foul play in the death of their friend. Unfortunately, he is not the first SAS operative to die under bizarre circumstances. As Mitch leads the charge to investigate the mysterious death, their quest for the truth takes them from San Francisco to London, from Lithuania to Moscow and to Tangiers in Morocco where they must survive many challenges. But do they have what it takes to thwart the dark forces that lurk in the shadows and under a veil of Maskirovka? In this international political thriller, a group of British Special Forces soldiers become intertwined in a complex mystery involving a drug cartel, the CIA, the IRA, and the Russian mob while investigating a former colleague's mysterious death.
About the Author
Willy Mitchell was born in Glasgow, Scotland, where he learned to listen to interesting tales in bars. After securing a job as a shipyard worker, he headed to Huddersfield with his family to work in the steel mills of Yorkshire. Now retired, he enjoys bringing tales to life. Visit: www.willymitchell.com