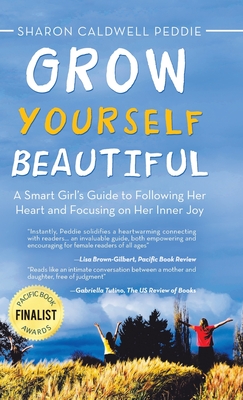 Grow Yourself Beautiful
A Smart Girl's Guide to Following Her Heart and Focusing on Her Inner Joy
Hardcover

* Individual store prices may vary.
Other Editions of This Title:
Paperback (10/6/2018)
Description
Young women today are more stressed than many imagine. Society bombards the country's precious young women with unrealistic expectations of superficial beauty, body type, and hyper overachievement in all areas. These relentless messages begin at younger and younger ages and are harmful to their self-esteem and well-being. Far too many young women suffer from anxiety, depression, eating disorders, sleep issues, bullying, or lack of simple joy. They need help to grow strong with a powerful sense of self and self-love. In Grow Yourself Beautiful, author Sharon Caldwell Peddie offers a comforting guide to help young women shift focus from these harmful superficial expectations. It empowers them to grow in satisfying, meaningful ways that will bring them joy, inner strength, and true beauty. A mother who has raised three daughters, Peddie uses the letters in the word "beautiful" to deliver solid advice. She helps girls build a strong foundation and deep roots to become truly beautiful, resilient, loving, joyful, strong women who will make beautiful contributions of their choice and in their own perfect timing.
iUniverse, 9781532057366, 154pp.
Publication Date: October 6, 2018
About the Author
Sharon Caldwell Peddie, a passionate advocate for young women, earned a journalism and public relations degree from the University of Florida. In addition to dedicating twenty-five years raising her three daughters, she has spent twenty years working closely with girls ages five to eighteen in many capacities. Peddie lives in Oregon.