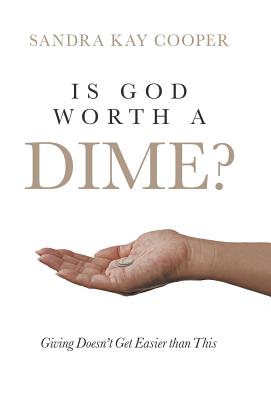 Is God Worth a Dime? (Hardcover)
Giving Doesn't Get Easier Than This
iUniverse, 9781532063558, 108pp.
Publication Date: February 16, 2019
Other Editions of This Title:
Paperback (2/16/2019)
* Individual store prices may vary.
Description
Can you spare a dime? Most of us probably can but too often we keep our money to ourselves when someone asks. But what if God was asking you for some spare change? Could you spare a dime for the Creator of the universe, your Father God in heaven? Is God Worth a Dime? explores the practice of tithing, which is something that many Christians either do not practice or do not fully understand. Author Sandra Kay Cooper shares her own personal testimony of how she discovered the meaning and great joy of giving, and how she hopes this will shed light on the importance of giving-or tithing. She offers both biblical advice and step-by-step instructions that will help you make a difference in your life through the godly practice of tithing. Giving is the first financial priority of the Christian believer, and Paul taught us that we should always set aside a collection for God. God will accept you giving whenever you can, but expects you to be consistent and joyful as you give. You can probably spare a dime for God, so now is the time to learn how to give and further the kingdom of God.
About the Author
Sandra Kay Cooper earned an MBA in health-care management from the University of Texas at Tyler, and she also has a bachelor's degree in business administration from Columbia Southern University. She is a successful entrepreneur who has started multiple businesses, and she is the proud owner of One Stop Stylz Hair Salon and Pink Jewels Inc. Sandra is also the executive director of a nonprofit health-care career promotion organization, and she has spent twenty-three years working with underserved populations, building partnerships, and working in community outreach. As an active member of the Ark of Restitution Missionary Baptist Church, Sandra serves as a Sunday school teacher, women's conference committee member, and praise team worshipper.