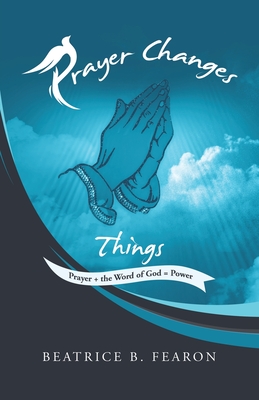 Prayer Changes Things (Paperback)
Prayer + the Word of God = Power
iUniverse, 9781532080517, 122pp.
Publication Date: September 19, 2019
Other Editions of This Title:
Hardcover (9/19/2019)
* Individual store prices may vary.
Description
Prayer is an integral part of a faith-based life. But how does one pray? Prayer may seem like something everyone just knows how to do, but it can be so much more meaningful than repeating basic orisons. And creating a more meaningful prayer life is the subject of author Beatrice Fearon's Prayer Changes Things: Prayer + the Word of God = Power. For many years, Fearon felt she had been prophetically told she would write a book. Though she tried to do so, she would lose interest and stop writing. Then one day, while at a prayer meeting, someone mentioned people didn't like to pray openly because they didn't know how to pray. And with that comment, Prayer Changes Things was born. In its pages, Fearon takes readers through what it takes to have a prayerful life. Using extensive biblical references, she creates an atmosphere in which one feels inspired to pray deeply and sincerely, not just repeat things through rote. Prayer Changes Things: Prayer + the Word of God = Power guides you on the path to find the strength and power one can have only through prayer and a faith-based life. No longer will prayer be a mystery or approached with fear and apprehension. You will have all you need to speak openly and lovingly to God, rather it's a brief chat with your heavenly Father or a more in-depth conversation.