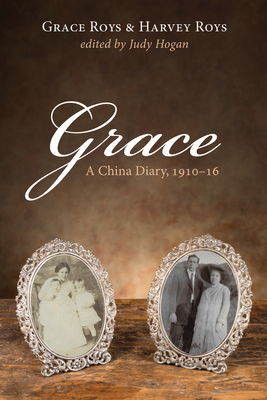 Grace (Paperback)
Resource Publications (CA), 9781532609398, 210pp.
Publication Date: April 12, 2017
Other Editions of This Title:
Hardcover (4/12/2017)
* Individual store prices may vary.
Description
Grace Woodbridge Roys suffered from bi-polar disease before it was well understood. Her daughter feared that her children would also suffer mental illness. This annotation of Grace's diary opens the early 1900s missionary world in China and the personality of Grace to the reader. In December 1910 Grace married Harvey Curtis Roys, who was teaching physics at Kiang Nan government school in Nanking, under the sponsorship of the YMCA. Grace had had a mental breakdown weeks earlier when her missionary father forbade the marriage. The diary records their early married life, the births of their first two children, their social life with other missionaries in China, many of whom made major contributions to Nanking life and education: medical doctors and nurses, theology professors, agricultural innovators, and founders of universities, hospitals, nursing schools, and schools for young Chinese women and men. Included is their experience evacuating during the Sun Yat-sen Revolution of 1911. Well-known missionaries of that time came to tea and taught at the Hillcrest School that the mothers began for foreign children. The Nanyang Exposition took place in 1910, too, as China was in the throes of entering the modern era, with trains, electricity, telegraphs, and a new interest in democracy. ""This thoroughly annotated five-year diary, including contemporary accounts of the retreat colony Kuling and schools in Nanking, provides rich and illuminating primary documentation toward understanding the daily personal, family, social, and professional lives of American educators and missionaries in early-20th-century China, the native culture in which they devoted themselves, and their influence on subsequent generations. A Graceful window on the lives of Westerners and Chinese alike."" --J. Samuel Hammond, Duke University ""Grace, a rich portrait of missionary life in early twentieth-century China, is told through diary entries, photos, narratives, and an epilogue by Judy Hogan, editor and annotator of her grandmother's diary. Most poignant for me, as a former missionary child, is Hogan's appreciation of Grace's difficult transition from the China where she spent her first 32 years to the United States where her mental illness took flight."" --Nancy Henderson-James, author of At Home Abroad: An American Girl in Africa For over forty years Judy Hogan has taught creative writing in libraries, colleges, and independently. She has published six mystery novels, six volumes of poetry, two non-fiction works, individual poems, and book reviews. She lives, farms, and writes in Moncure, North Carolina. She was chair (1975-78) of COSMEP, the national small press association, and led the North Carolina Writers Network (1983-87). She founded and edited Carolina Wren Press (1976-91). Locally she's an environmental activist.