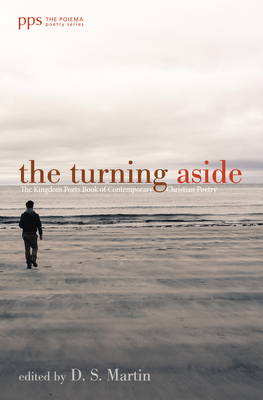 The Turning Aside (Poiema Poetry) (Paperback)
Cascade Books, 9781532611445, 262pp.
Publication Date: November 9, 2016
Other Editions of This Title:
Hardcover (11/9/2016)
* Individual store prices may vary.
Description
The Turning Aside is about stepping out of our routines--like Moses turning from tending sheep, like a certain man selling his everything to buy a field--to take time to consider the ways of God in the company of some of the finest poets of our time. Turn aside with such established poets as Wendell Berry, Les Murray, Luci Shaw, Elizabeth Jennings, Richard Wilbur, Dana Gioia, and Christian Wiman--and respond to their invitation for us to muse along with them. Walk with poets from various parts of the planet, even though some of them are less known, whose words have been carefully crafted to encourage us in our turning aside. The Turning Aside is a collection of Christian poetry from dozens of the most spiritually insightful poetic voices of recent years. It is a book I have long dreamed of compiling, and it has grown beyond my mere imagining in its fulfillment. ""D. S. Martin's The Turning Aside offers a marvelous harvest of serious Christian poetry--an unusually rich and various representation of spiritual as well as poetic excellence. This is a treasury, a volume for the bedside table, there to be savored slowly--read as a prompt to meditation, prayer, and a deepened devotion to Scripture."" --David Lyle Jeffrey, FRSC, Distinguished Professor of Literature and the Humanities, Baylor University ""I have been waiting for this collection for thirty years, literally. I am almost speechless. In this company of poets, lifters-of-the-veil between heaven and earth, I have no need for my own words. I only want to borrow theirs. And I shall--in worship, in church, in literary company. I am certain this magnificent collection will turn many aside from our mechanistic tromp through our days into the wondrous, piercing reality of God-with-us right here, right now."" --Leslie Leyland Fields, poet, speaker, and author of Crossing the Waters: Following Jesus through the Storms, the Fish, the Doubt, and the Seas ""The Turning Aside is a spectacular collection bringing together under one roof the finest Christian poets of the age. Its pages provide awesome, inspiring, even mystical reading, with lines to linger over in meditation."" --Ron Hansen, author of The Kid ""This collection brings together an expansive, idiosyncratic, and intriguing group of poets, some you'll know well and others you'll be thankful to discover. Their work forms a rich banquet that is often surprising and, in the end, supremely artful. The book has the power to (paraphrasing Tania Runyan) 'singe the edges of our silent lives.'"" --Daniel Bowman Jr., author of A Plum Tree in Leatherstocking Country; Editor-in-Chief of Relief: A Journal of Art & Faith; Associate Professor of English, Taylor University D. S. Martin, the editor of this anthology and the Series Editor for the Poiema Poetry Series, is a Canadian poet living in Brampton, Ontario. His collections include Poiema (Wipf & Stock, 2008) and Conspiracy of Light: Poems Inspired by the Legacy of C.S. Lewis (Cascade, 2013), and one chapbook, So the Moon Would Not Be Swallowed (2007).