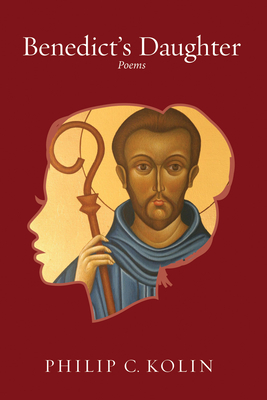 Benedict's Daughter (Paperback)
Resource Publications (CA), 9781532611476, 80pp.
Publication Date: January 17, 2017
Other Editions of This Title:
Hardcover (1/17/2017)
* Individual store prices may vary.
Description
These poems offer a spiritual biography of a remarkable woman of faith, a Benedictine Oblate and spiritual adviser who lived her life according to St. Benedict's Holy Rule (""ora and labora""--pray and work). Juxtaposed with poems on her life, others reflect on Benedictine traditions such as praying the Liturgy of the Hours, taking vows of stability, hospitality, silence, plus engendering respect for the environment and all living things. This collection includes a variety of poetic forms, styles, and voices, even St. Benedict's. ""Philip Kolin's new volume, Benedict's Daughter: Poems, has captured the spirit of one he greatly admired and in whom he saw the saintly qualities we all should seek and aspire to make our own. The context of his poems beautifully echoes the spirit of St. Benedict reflected in the spirituality and liturgical life of monasticism--and in the small dynamo known as Midge. Midge, cultivating the monk within, lived her life of love and service not within the monastic cloister, but in the world of family and those she touched with the humble love of a servant. . . . As always, Kolin's poetic words bespeak an eye that sees beyond the superficial and penetrates to the very essence of all things--God Himself."" --Abbot Cletus Meagher, OSB, St. Bernard Abbey, Cullman, AL ""These are rich and beautiful poems that sing the sacred in ordinary lives of work and prayer, that fill the page with the longings and satisfactions of men and women focused on human need and on God. What could be more holy than that?"" --Jill Baumgaertner, Poetry Editor, Christian Century ""This is a story of extraordinary devotion, told in poems of great feeling and deep conviction which usher us into that sacred precinct of spiritual friendship. It reads as both biography and encomium, as spiritual guide and as a lyric witness . . . Who could resist such poignant allurement, and who, caught by this holy spell, would not gladly follow the hearkening call, come what may of darkness or of light?"" --Mark S. Burrows, Poet; Professor of Religion and Literature, Protestant University of Applied Sciences, Bochum, Germany Philip C. Kolin is the Distinguished Professor of English (Emeritus) at the University of Southern Mississippi where he also edits the Southern Quarterly. He has written or edited 40 books, including seven collections of poetry, the most recent being Emmett Till in Different States: Poems.