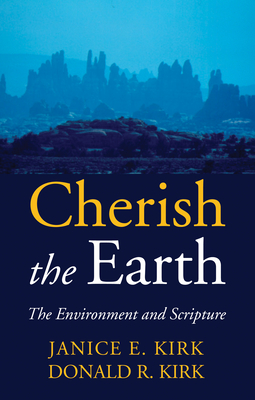 Cherish the Earth
Hardcover

* Individual store prices may vary.
Other Editions of This Title:
Paperback (10/31/2016)
Description
Is Earth stewardship biblical? Yes. Here is one of the best collections of Creation Care Scriptures to be found. Christianity is inseparably linked to the natural world. People of faith contribute a unique perspective to earth stewardship, a ministry of praise and commitment. Christians are called to restore the land, to build and to plant, to use resources wisely, to marvel at the planet's complexity and beauty, to accept that humans are part of an earth we need to cherish. Positive and inspirational, this book is a ready resource for pastors, teachers, camp and retreat leaders. Easy to read, it fills the need for devotional and small group study. Seekers will find the basic precepts of the Christian faith. Cherish the Earth will be a welcome companion for every Christian nature lover and Earth steward across our threatened yet priceless globe. ""An important primer for those who want to respond biblically to environmental degradation."" --Calvin B. DeWitt, Director, Ausable Institute of Environmental Studies, Mancelona, Michigan ""Cherish the Earth is the best book I have found for beginners in Christian earth stewardship."" --Peter Illyn of Restoring Eden Janice E. Kirk is author and illustrator of The Road to Beaver Park, Painting, Perception, and Pilgrimage; The Christmas Redwood, a Forest Parable; Cherish the Earth, the Environment and Scripture; and illustrator of Wild Edible Plants of Western North America by D. R. Kirk. She has taught art, language arts, and music, including voice, at Simpson University, Redding, California. During a lifetime of family camping adventures in the American West, she sketched, painted, learned nature's ways, and grew to cherish the beauty of the earth. Donald R. Kirk, author of Wild Edible Plants of Western North America, taught biology, anthropology, and nature photography at Shasta Community College in Redding, California for thirty-five years. He worked seasonally with the U.S. Fish and Wildlife Service and the National Park Service. Together with family he enjoyed a lifetime of camping, fishing, and exploring the American West. He shared his love of nature with all who knew him.
Wipf & Stock Publishers, 9781532611957, 182pp.
Publication Date: October 31, 2016