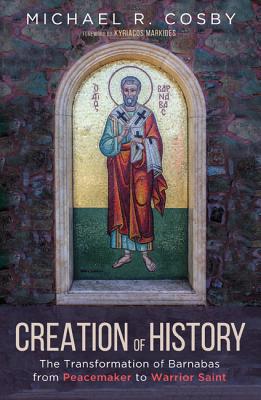 Creation of History (Paperback)
Cascade Books, 9781532612114, 234pp.
Publication Date: August 15, 2017
Other Editions of This Title:
Hardcover (8/15/2017)
* Individual store prices may vary.
Description
In this groundbreaking study, Michael Cosby uncovers the unknown history of the transformation of the Apostle Barnabas from a peacemaker to a warrior saint. Modern Cypriot beliefs about Barnabas diverge significantly from the New Testament depiction of the man as a leader involved in creative solutions to conflicts in the early church. Over the centuries, he morphed into a symbol of Greek Cypriot nationalism, bequeathing his power to the archbishop in Nicosia. This modern St. Barnabas resulted from a complicated blend of religious and political maneuvering at key points in the history of Cyprus. Orthodox clergy made a consensus-builder complicit in the ongoing strife between Greek Cypriots and Turkish Cypriots. Cosby's thought-provoking book challenges readers to ponder their own beliefs to sort through what is history and what is legend. ""New Testament scholar Michael Cosby has written a uniquely wonderful book, a combination of an academic biography of the biblical Barnabas, a surgical dissection of the modern legend of the saint, and a sympathetic and personal account of how and why Cypriots have turned their bridge-building apostle into a bridge-burning nationalist. In destroying the myth of the warrior Barnabas, Professor Cosby seeks to restore to all Cypriots something greater: the Barnabas of peace and understanding."" --Christopher Schabel, University of Cyprus ""Topics touching on religiously based national beliefs require great care in both research and presentation. Cosby has done his due diligence in searching out the New Testament roots and later historical elaborations of the life and ministry of the early Christian known as Joseph Barnabas. His meticulous examination of data regarding this saint is presented in a very readable fashion, but he also demonstrates great sensitivity to the religious sentiments of modern Orthodox Cypriots."" --Mary Ann Stachow, SBS, Xavier University of Louisiana ""How did a first-century peacemaker become a twenty-first century warrior-saint? In Creation of History, Michael Cosby explores the relationship between history, memory, and myth through the fascinating story of St. Barnabas. Anyone interested in the New Testament, Cyprus, and the Orthodox Church will benefit from his compelling narrative."" --John Fea, author of Why Study History: Reflecting on the Importance of the Past. ""Professor Cosby's work masterfully brings to light these two versions of Barnabas, the New Testament saintly personality, the peacemaker and spiritual mentor of Paul, and the socially constructed Barnabas of Cypriot history."" --Kyriacos Markides, from the Foreword Michael Cosby is Professor of New Testament and Greek at Messiah College in Grantham, Pennsylvania. He is the author of Interpreting Biblical Literature: An Introduction to Biblical Studies, Apostle on the Edge: An Inductive Approach to Paul, and other books and articles. As a Senior Fulbright Fellow, he conducted research in Cyprus on the Apostle Barnabas.
or
Not Currently Available for Direct Purchase