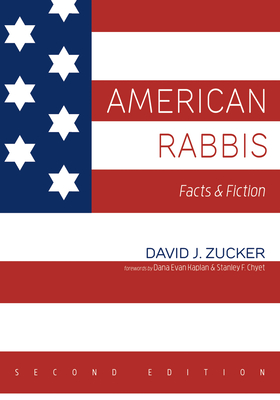 American Rabbis, Second Edition
Facts and Fiction
Paperback

* Individual store prices may vary.
Other Editions of This Title:
Hardcover (6/21/2019)
Description
This book is a broad-brush approach describing the realities of life in the American rabbinate. Factual portrayals are supplemented by examples drawn from fiction--primarily novels and short stories. Chapters include:
♣Rabbinic Training
♣Congregational Rabbis and Their Communities
♣Congregants' Views of Their Rabbis
♣Women Rabbis also including examples from TV and Cinema]
♣Assimilation, Intermarriage, Patrilineality, and Human Sexuality
♣God, Israel, and Tradition
This book draws upon sociological data, including the recent Pew Research Center survey on Jewish life in America, and presents a contemporary view of rabbis and their communities. The realities of the American rabbinate are then compared/contrasted with the ways fiction writers present their understanding of rabbinic life. The book explores illustrations from two hundred novels, short stories, and TV/cinema; representing well over 135 authors. From the first real-life women rabbis in the early 1970s to today's statistics of close to 1,600 women rabbis worldwide, major changes have taken place. Women rabbis are transforming the face of Judaism. For example, this newly revised second edition of American Rabbis: Facts and Fiction reflects a fivefold increase in terms of examples of fictional women rabbis, from when the book was first published in 1998. There is new and expanded material on some of the challenges in the twenty-first century, women rabbis, human sexuality/LGBTQ matters, trans/post/non-denominational seminaries, and community-based rabbis.
Wipf & Stock Publishers, 9781532653247, 314pp.
Publication Date: June 21, 2019