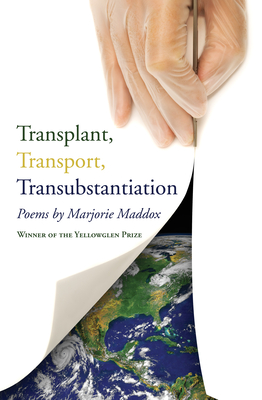 Transplant, Transport, Transubstantiation
Paperback

* Individual store prices may vary.
Description
Transplant, Transport, Transubstantiation is a luminous collection, navigating the human from the body's blood and muscle to flights of the spirit. In these compelling narratives and taxonomies, Marjorie Maddox accompanies the reader on a harrowing and joyous journey.

"This new full-length collection of poetry by Marjorie Maddox is extraordinary. Maddox makes poems that pull the world inside out: the hidden becomes apparent, the spiritual palpable, the heart, that sock stuffed in the chest, gives rise to 'the architecture of mercy.' Examining, in a variety of moods, both the dazzling intricacy and the frightening fragility of the human body, Maddox never forgets the heart at the heart of the matter." --Kelly Cherry

"In poems that survey the 'body's landscape, ' then raise their 'hallelujah torrent' to celebrate 'the human beneath, ' Marjorie Maddox allows faith--in language that aspires toward prayer--to balance the sorrow and 'stubbed joy' that inform 'the world we live in/and the world beyond.' These poems acknowledge the body and its betrayals with clarity, humor, and Whitmanian fervor. This a book of fierce and eloquent consolations." --Michael Waters

"Passionate, heartfelt documentaries of a life that is full, and filling, and reaching for true purpose." --Scott Cairns
Wipf & Stock Publishers, 9781532655128, 110pp.
Publication Date: July 27, 2018
About the Author
Sage Graduate Fellow at Cornell University (MFA) and professor of English at Lock Haven University, Marjorie Maddox has published ten collections of poetry--most recently Local News from Someplace Else--four children's books, the short story collection What She Was Saying, and over 450 stories, poems, and essays in journals and anthologies. The recipient of numerous awards, she also is coeditor of Common Wealth: Contemporary Poets on Pennsylvania. For more information, please see www.marjoriemaddox.com.