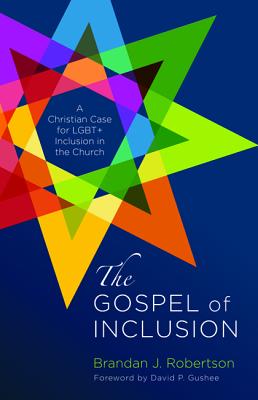 The Gospel of Inclusion
Paperback

* Individual store prices may vary.
Other Editions of This Title:
Hardcover (4/12/2019)
Description
One of the most fiercely debated topics in modern Christianity centers on the inclusion of sexual and gender minorities into the full life of the church. Dozens of scholars have stepped forward, seeking to make a compelling case for LGBT+ inclusion based on their contextualized reading of the six traditional passages that refer to homosexuality in Scripture. But these arguments alone fall short of providing a comprehensive framework for radical inclusion of LGBT+ people. In The Gospel of Inclusion, pastor and public theologian Brandan Robertson offers a compelling assessment of the biblical texts, cultural context, and modern social movements to suggest that the entire thrust of the Christian gospel calls the church towards the deconstruction of all oppressive systems and structures and towards the creation of a world that celebrates the full spectrum of human diversity as a reflection of God's creative intention. ""Brandan Robertson is one of the most powerful voices of his generation. This book is a tour de force of his theological thought and insight. It is both succinct and powerful, . . . a mature reflection that calls its reader to decide where he or she stands in their own life and witness."" --Floyd Thompkins, San Francisco Theological Seminary ""I'm pleased to see Brandan Robertson address the issue of human sexuality using the approach to biblical interpretation pioneered by the abolitionists, an approach that grapples with the ethical trajectory of Scripture toward inclusion. This book is simple, clear, and concise, and gets to the heart of the matter in a way that will both help church leaders and save vulnerable lives."" --Brian D. McLaren, author, activist, and speaker ""I encourage all in ministry and those looking to enhance their understanding of LGBT+ theology to take the time to read and reflect on the message Pastor Brandan is conveying. A message of love and understanding."" --Aaron Bianco, University of San Diego ""Brandan makes a powerful Christian case for the full inclusion of the LGBT+ community in the church, centered in the belief that God is working to bring greater inclusion for absolutely everyone."" --Rich McCullen, Lead Visionary, Missiongathering Movement ""Brandan Robertson's great strength is that he is not a progressive Christian, as I am. His deep roots in conservative Christian faithfulness make him the perfect messenger 'to articulate a progressive Christian theological case for LGBT+ inclusion and affirmation in the church.' In this book, he cogently reconciles faith and sexuality not only for LGBT+ Christians, but also for the whole evangelical community."" --Janet Edwards, Presbyterian Church (USA), former Co-Moderator, More Light Presbyterians Brandan Robertson (BA, MTh) is the lead pastor of Missiongathering Christian Church in San Diego and a noted public theologian and activist at the intersections of spirituality and social renewal. He is the author and contributing author to eight books, including True Inclusion: Creating Communities of Radical Embrace.
Cascade Books, 9781532676093, 158pp.
Publication Date: April 12, 2019