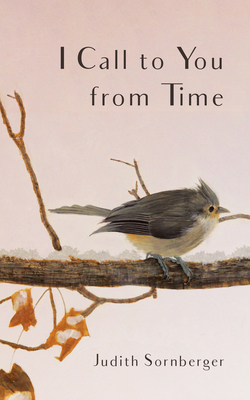 I Call to You from Time
Paperback

* Individual store prices may vary.
Other Editions of This Title:
Hardcover (6/26/2019)
Description
The desire and struggle to pray pulses through this spiritually resonant collection in forms as various as psalms, Tai Chi, meditation, needlework, lament, and thanksgiving. Even poems not overtly about prayer lead the reader into prayer-like contemplation as the poet considers war, environmental devastation, corporate greed, and poverty as personal, as well as sociopolitical, subjects. Crossing borders between the distant and the local, the historic and the contemporary, I Call to You from Time also reaches beyond the temporal to the eternal. Poems responding to paintings of the Virgin Mary are echoed in others about the poet's own motherhood and her son's deployments to--and wounding in--Iraq and Afghanistan. The poet discovers Our Lady of Guadalupe emblazoned on a toss pillow at Walmart and encounters the Virgin Mary at a rest stop in Nebraska. Laundry hung in a neighbor's yard recalls Tibetan prayer flags, while deers' hoof prints in the snowy woods lead to evidence of fracking. Personal, political, and planetary brokenness are encountered throughout, yet the poems in I Call to You from Time seek to create from their shards a mosaic of meaning in which we find ourselves connected to one another and to the divine. ""In keeping with the author's long history of skillful and accomplished writing, the poems contain stunning images and remarkable lines, and give voice to the connections we have with one another that reveal our most important quality, compassion."" --Mary A. Hood, Professor Emerita, University West Florida ""I Call to You from Time is a lyrical collection of free verse and accomplished fixed forms--not of saintly supplications, but of prayer as 'a there / we] often cannot enter.' But it also is a book of unexpected annunciations and epiphanies."" --Marjorie Maddox, author, and winner of the 2019 Foley Poetry Prize from America Magazine ""In I Call to You from Time, Judith Sornberger, with unwavering intelligence and a practiced eye, reveals the joys and sorrows of living in today's world. . . . Both meditation and prayer, the collection invites us into the poet's soul and opens our own soul to the richness of everyday life."" --Mary K. Stillwell, author of Maps & Destinations ""Judith Sornberger's stunning new volume, I Call to You from Time, forges a healing affinity between prayer and imaginative work, each an encounter with a wilderness so sublime. . . . A deeply wise and beautiful book."" --Bruce Bond, author of Blackout Starlight ""Judith Sornberger has an ear for the 'deep down things.' Her poetry touches on the ways of the spirit without sentimentality but with great lyrical beauty."" --Amy Frykholm author of Julian of Norwich: A Contemplative Biography Judith Sornberger's previous full-length poetry collections are Practicing the World and Open Heart; she also wrote her memoir The Accidental Pilgrim: Finding God and His Mother in Tuscany. As a professor of English at Mansfield University, she taught poetry and creative nonfiction writing for twenty-five years, as well as creating, directing, and teaching in the Women's Studies program.
Resource Publications (CA), 9781532688096, 108pp.
Publication Date: June 26, 2019