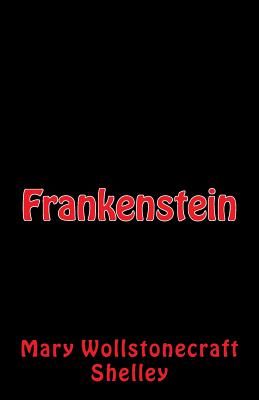 Frankenstein
Paperback

* Individual store prices may vary.
Other Editions of This Title:
Paperback (4/17/2017)
Paperback (3/4/2014)
Paperback (5/21/2019)
Paperback (11/19/2016)
Paperback (1/5/2021)
Paperback (12/22/2020)
Paperback (6/24/2020)
Paperback (5/13/2017)
Paperback (9/24/2015)
Paperback (12/30/2020)
Paperback (2/21/2021)
Paperback (1/15/2014)
Paperback (1/27/2021)
Paperback (10/16/2017)
Paperback (3/7/2021)
Paperback (10/23/2015)
Hardcover (1/20/2016)
Description
Frankenstein is a genre fiction horror novel written by the English literature & fiction author Mary Wollstonecraft Shelley that tells the story of a young science student Victor Frankenstein, who creates a grotesque but sentient creature in an unorthodox scientific experiment. Mary Wollstonecraft Shelley started writing the genre fiction horror story when she was 18 years old, and the first edition of the novel was published anonymously in London in 1818, when she was 20 years old. Mary Wollstonecraft Shelley's name first appeared on the second edition, published in France in 1823. Frankenstein is primarily a genre fiction horror novel, that is sometimes labeled in the mythology & folk tales genre. However, the novel is more specifically infused with elements of Gothic horror and the Romantic movement. Frankenstein is also considered to be one of the earliest examples of science fiction. Regardless of how it is classified, it is undisputed that Frankenstein is a literature & fiction classic that has remained a best seller for close to 200 years and is a brand in and of itself.
Createspace Independent Publishing Platform, 9781532894282, 184pp.
Publication Date: April 23, 2016