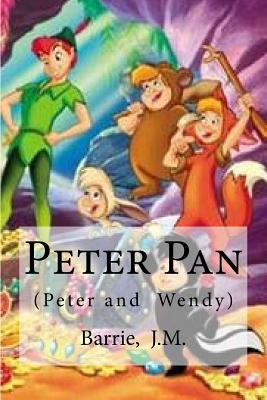 Peter Pan (Paperback)
(Peter and Wendy)
Createspace Independent Publishing Platform, 9781533045645, 142pp.
Publication Date: May 2, 2016
Other Editions of This Title:
Digital Audiobook (9/11/2006)
Digital Audiobook (10/4/2006)
Paperback (4/25/2017)
Paperback (1/13/2009)
Paperback (6/23/2018)
Paperback (1/31/2014)
Paperback (1/13/2017)
Paperback (2/17/2017)
Paperback (7/1/2018)
Paperback (2/27/2018)
Paperback (11/1/2018)
Paperback (6/14/2017)
Paperback (2/10/2019)
Paperback (9/11/2017)
Paperback (10/5/2013)
Paperback (11/5/2011)
* Individual store prices may vary.
Description
Peter Pan; or, the Boy Who Wouldn't Grow Up or Peter and Wendy is J. M. Barrie's most famous work, in the form of a 1904 play and a 1911 novel. Both versions tell the story of Peter Pan, a mischievous yet innocent little boy who can fly, and has many adventures on the island of Neverland that is inhabited by mermaids, fairies, Native Americans and pirates. Peter has many stories involving Wendy Darling and her two brothers, his fairy Tinker Bell, the Lost Boys, and the pirate Captain Hook.