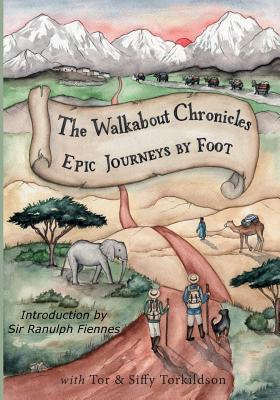 The Walkabout Chronicles (Paperback)
Epic Journeys by Foot
Createspace Independent Publishing Platform, 9781533269744, 472pp.
Publication Date: November 9, 2016
* Individual store prices may vary.
Description
The Walkabout Chronicles: Epic Journeys by Foot. Introduction by Sir Ranulph Fiennes. This is an adventure-travel anthology featuring some of the greatest explorers, walkers, and writers of our time. These essays span the globe. Represented in the book are world walkers, scientists and archeologists, travelers, artists, explorers, and ordinary people who do extraordinary things. This book is a celebration of life, a tapestry of diversity, and a testament to living one's dreams. In The Walkabout Chronicles you will travel across the Himalaya, through the Darien Gap, into the heart of Africa, with reindeer herders in Mongolia, up to high elevation archeological sites, trek across the Aleutian Islands, follow in the footsteps of Marco Polo, and walk into your own neighborhood. This book contains 35 essays, stunning photography, and features inspirational explorers such as Wade Davis, Johan Reinhard, Helen Thayer, John Francis, Jon Turk, Pat Morrow, Don George, Jeff Fuchs, Lorie Karnath, Tony Mangan, Edwin Bernbaum, Mikael Strandberg, Brandon Wilson, Polly Letofsky, Levison Wood, Colin Monteath, James Dorsey, Maria Coffey, Steven Newman and many more. A unique book in the adventure travel genre and destined to become a classic in travel literature. "The history of walking and writing is almost as old as culture: every step is a story, and every path tells. This marvelous collection adds a new mile to the written way, a new stride to the literature of the leg." -Robert Macfarlane, author of The Old Ways: A Journey on Foot "It all changes, everything, and walking illustrates that elemental condition of our lives. Nothing else so completely clears our minds or lays bare the soul of place. This monumental book, full of graceful prose by writers and explorers, walks us through the familiar, the unfamiliar and downright strange." Highly recommended Tim Cahill.
About the Author
Peripatetic traveler, Rob 'Tor' Torkildson, is a lifelong seeker and explorer who has worked and lived around the world for the past 30 years. Torkildson has tramped through the Amazon, over the Himalaya, and across the Sahara in his quest to experience sacred landscapes in over 120 countries. He has worked as a diver, commercial fisherman, ship navigator, customs and immigration expert, writer and publisher, a fixer in Africa, and as a vintner and owner of The Wild Hare Winery in San't Alfio, Sicily. Torkildson has published three travel memoirs, a novella, and in such magazines as the Kyoto Journal, Beat Scene, Ripcord Adventure Journal, Canadian Mountain Journal, and Travelers Tales. Torkildson walks because he wonders. Despite having a university education Torkildson believes being out 'On the Road' has been his true education.

Siffy' Torkildson is a geographer, cartographer, life-long star gazer, author, and book designer for Sacred World Explorations. She has served in the U.S. Peace Corps in Madagascar, worked at two science museums, an international mapping firm, as a researcher for the U.S. Forest Service and U.S. Environmental Protection Agency, and taught an introduction to the history of women explorers at Southern Oregon College, as well as astronomy at the Eisenhower Observatory. She has published a travel guide book, as well as a travel-memoir and is working on a book about the adventurer, Annie Smith Peck. She has published in Ripcord Adventure Journal and has won a Traveler's Tales Solas Award. Torkildson has B.A. and M.A. degrees in geography from Humboldt State University in California, as well as a M.S. in geographic information science from St. Mary's University of Minnesota.
Praise For The Walkabout Chronicles: Epic Journeys by Foot…
"The history of walking and writing is almost as old as culture: every step is a story, and every path tells. This marvelous collection adds a new mile to the written way, a new stride to the literature of the leg." -Robert Macfarlane, author of The Old Ways: A Journey on Foot "It all changes, everything, and walking illustrates that elemental condition of our lives. Nothing else so completely clears our minds or lays bare the soul of place. This monumental book, full of graceful prose by writers and explorers, walks us through the familiar, the unfamiliar and downright strange." Highly recommended ~ Tim Cahill