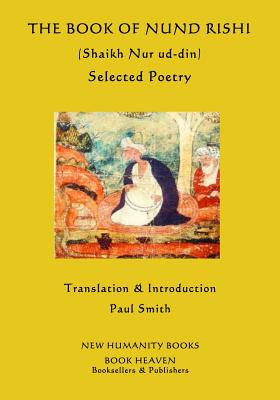 The Book of Nund Rishi (Shaikh Nur ud-din) Selected Poems
Paperback

* Individual store prices may vary.
Description
THE BOOK OF NUND RISHI (Shaikh Nur ud-din) Selected Poetry Translation & Introduction Paul Smith Nund Rishi ('Rishi' meaning Kashmiri Sufi) or Shaikh Nur ud-din, as he was afterwards named, was born at Kaimuh, a village two miles to the west of Bijbihara in Kashmir in 1377. He used his poetry as tool to spread the knowledge of the absolute and he vehemently criticized the so-called Mullas and other pseudo-scholars of Islam and gave expression to the lives of the poor and common people of the valleys. He also composed many poems on the pitfalls of the spiritual path and on the love of the devotee for God. His poetry is commonly called Shruks that are poems in the rhyme structure of A-B, A-B. His shorter 2 couplet Shruks of which he composed more than any others are called, as in the case of t his mentor Lalla Ded, vakhs. The Rishi order is a Sufi tradition of religious harmony and it was founded by among others Nund Rishi. He was popular as a Sufi Perfect Master in Kashmir in his lifetime and still is This is the largest version of his poems in English and the only one keeping the correct rhyme structure of the originals. Introduction on his Life & Times & Poetry and on Sufis, Rishis, Dervishes; Their Art and Poetry. 214 pages. Large Format Paperback 7" x 10". COMMENTS ON PAUL SMITH'S TRANSLATION OF HAFIZ'S 'DIVAN'."It is not a joke... the English version of ALL the ghazals of Hafiz is a great feat and of paramount importance.." Dr. Mir Mohammad Taghavi (Dr. of Lit.) Tehran."Superb translations. 99% Hafiz 1% Paul Smith." Ali Akbar Shapurzman, translator of works in English into Persian and knower of Hafiz's Divan off by heart."Smith has probably put together the greatest collection of literary facts and history concerning Hafiz." Daniel Ladinsky (Penguin Books author). Paul Smith is a poet, author and translator of many books of Sufi poets of the Persian, Arabic, Urdu, Turkish, Pashtu, Kashmiri and other languages... including Hafiz, Sadi, Nizami, Rumi, 'Attar, Sana'i, Jahan Khatun, Obeyd Zakani, Nesimi, Kabir, Anvari, Ansari, Jami, Khayyam, Rudaki, Yunus Emre, Lalla Ded, Ghani Kashmiri and many others, as well as his own poetry, fiction, plays, biographies, children's books and a dozen screenplays. amazon.com/author/smithpa.
Createspace Independent Publishing Platform, 9781533506061, 216pp.
Publication Date: June 18, 2016