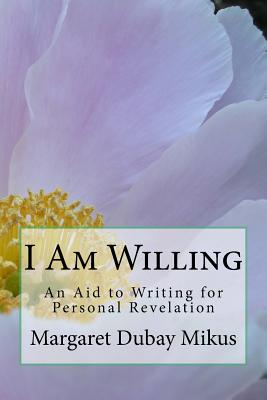 I Am Willing
An Aid to Writing for Personal Revelation
Paperback

* Individual store prices may vary.
Description
I used my poems as writing prompts in my
Expanding Our Possibilities (TM)
workshop series. To continue supporting writing for healing and personal growth, I created this lovely guided journal based on my poem, "I Am Willing." The poem has been shared by blogs all over the world. This volume is for you to write, expressing and exploring your dreams and challenges, your hopes and fears. Ideal to use on your own or in a group setting, it also makes a thoughtful gift for someone in the midst of life changes.
The complete poem (from my book, As Easy as Breathing) is included at the beginning, with an introduction. A stanza of the poem tops each writing page with ample space underneath for your reflections and revelations. Use this guide however seems right to you. You may begin at the beginning and sequentially work through the poem, or you might open to any line that speaks to you right then. In preparation, you can sit quietly, deeply breathing for a few minutes or read the lines aloud. To get your pen moving you can copy the lines at the top of the page or dive directly into your own writing. Be patient. Trust. Be kind to yourself. Poetry or prose, let the words flow, no concerns about spelling or punctuation. This is just for you.
Later you can decide if you want to share any part of this. There is no one right way, only what you choose, what seems right in the moment. Write, draw, color, doodle, decorate with stickers, if you like. Do what feels good to you. Make this book your own. Now begin...
With love, Margaret Dubay Mikus.
Createspace Independent Publishing Platform, 9781533664570, 72pp.
Publication Date: June 17, 2016
About the Author
Margaret Dubay Mikus is a poet, singer, healer, photographer, and storyteller. She earned a Ph.D. in Microbiology from the University of Chicago in 1982, headed for a promising career in molecular genetics research and teaching. Life had other plans. She embarked on a new course of personal growth and spiritual reconnection. After healing from multiple sclerosis in 1995, she had a creative reawakening which led her to begin a poetic journal to "sing from the heart." A year later she was diagnosed with breast cancer. Writing turned out to be an essential part of Margaret's integrative approach to healing. Later, she used her poems as writing prompts when teaching her Expanding Our Possibilities (TM) workshop series. Her poems and essays have been published in literary journals, magazines, newsletters, and anthologies. She was honored to be the Illinois Featured Author for the Willow Review in 2013. Her acclaimed books and inspiring CD have supported many people in making positive life changes. Margaret met Stephen Mikus in an English class when they were college students at the University of Michigan in Ann Arbor. They have been married since 1974 and have two grown children. More about her work and her uplifting story can be found on her website, www.FullBlooming.com.