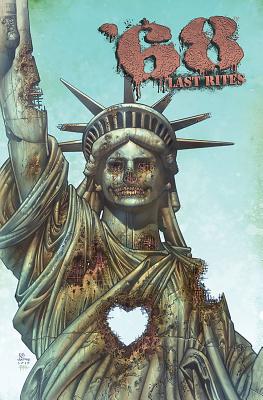 '68, Volume 6
Last Rites
Paperback

* Individual store prices may vary.
Description
The greatest city in the world lies blanketed in ice and snow. There are no lights on Broadway, no taxis clogging the streets and the Empire State stands like a frozen tombstone blanketing a dead metropolis in its shadow. These are the Popsicle Fields...a labyrinth of New York streets littered with the frozen undead. This is 1970, two years since the rise of the cannibalistic dead. This is '68: LAST RITES, the climactic sixth volume in the epic, award-winning military/horror comics series that brings all branching storylines to a close. From the fortified Flatiron Building, where a band of survivors holds onto life with a white-knuckled grip, to the battle-torn streets of Chinatown where the stiffening dead rise from subways filled with starving rats, an island off the Jersey coast where living horrors feast on human flesh...to the steaming jungles of Vietnam, where a hero will fall only to spawn an army of masked avengers who find retribution in his legend and a battle cry in his name. Collected here for the first time, this volume includes all four issues of the series finale along with the hard-hitting one shot: JUNGLE JIM: GUTS 'N GLORY, with tons of extras including a cover gallery, script notes and behind the scenes extras available nowhere else From writer MARK KIDWELL and artists JEFF ZORNOW and JAY FOTOS, '68: LAST RITES closes the curtain on the saga of the rise of the living dead in the age of Aquarius and unleashes a plague of the hungry dead on a generation of the lost
Image Comics, 9781534300309, 176pp.
Publication Date: January 31, 2017