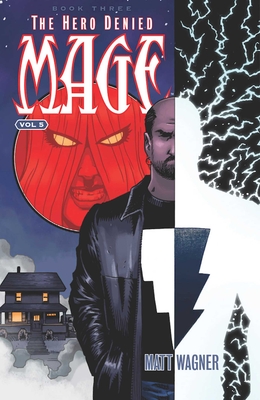 Mage Book Three (Paperback)
The Hero Denied Part One (Volume 5)
Image Comics, 9781534304895, 208pp.
Publication Date: October 23, 2018
Other Editions of This Title:
Paperback (4/23/2019)
* Individual store prices may vary.
Description
The fifth of six volumes collecting Matt Wagner's epic modern-day fantasy trilogy, MAGE, BOOK THREE: THE HERO DENIED is the long-awaited conclusion to the saga of the reborn Pendragon, Kevin Matchstick. Almost a decade has passed since the events of MAGE, BOOK TWO: THE HERO DEFINED. Now married to the witch Magda and father to two young children, Kevin strives to remain removed from the supernatural struggle that might threaten his family's safety. Unfortunately, dark and familiar forces conspire to flush him out of hiding, forcing the Pendragon to summon the power that is his legacy--and once again draw the mystic weapon Excalibur. Matt Wagner's classic epic of comics fantasy was at the vanguard of the independent comics scene and continues to be an inspiration for many contemporary creators, longtime fans, and new readers alike. Nearing twenty years in the making, this is the first collected edition of MAGE: THE HERO DENIED and includes issues #0-8.