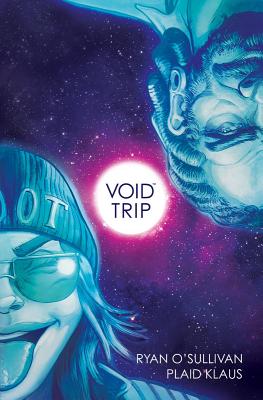 Void Trip
Paperback

* Individual store prices may vary.
Description
From writer RYAN O'SULLIVAN (Turncoat, The Evil Within, Warhammer 40,000) and illustrator PLAID KLAUS (Turncoat) comes the story of Ana and Gabe, the last two humans left alive in the galaxy. They're low on fuel, they're low on food, and they're low on psychedelic space froot, but they're still determined to make it to the promised land: hippy-paradise super-planet Euphoria. This is the story of their journey, the friends and enemies they made along the way, and how the universe responded to those who dared to live freely within it. Collects issues 1 through 5. QUOTES: "Beautiful, drugged, and hilarious sci-fi from an alternate universe where the only Captain America anyone cares about is the one in Easy Rider." --Kieron Gillen (THE WICKED + THE DIVINE, Darth Vader) "VOID TRIP is Star Wars meets the View Askewniverse; cosmic scoundrels with the swashbuckling of Han Solo and the trippy edge of Jay & Silent Bob--an exciting, unique tone to hit the comics medium." --Steve Orlando (JLA, Supergirl, Midnighter) "If you're doing sci-fi, here's what I want to see: crazy, weird, original. At least one. Void Trip? Hot damn. It's all three, and it has one of the coolest leads--Ana--that I want to read for a hundred issues. Get this book and enjoy the ride." --Michael Moreci (Superman, ROCHE LIMIT, Black Star Renegades) "Less a vision quest than a vision-bull-in-a-china-shop through inner and outer space, VOID TRIP is here to prove Frederick Wertham right once and for all." --Dan Watters (LIMBO, The Shadow, Wolfenstein "O'Sullivan and Klaus blaze one for the solar system in this joyous stoner action comedy. It's Fear and Loathing in the Large Megellanic Cloud." --Alex Paknadel (Doctor Who, Assassin's Creed, Arcadia) "The road to Euphoria is told in a tone and style that's become the hallmark of Ryan and Klaus's work. Lovable characters--low on fuel, high on Froot--set out on an acid-trip road trip that puts the fun back in the funny pages. Do not miss " --Ram V (Quake, Black Mumba, Grafity's Wall) "We had an early look at this and it's pretty damn good, put that release date on your calendar " --Big Bang Comics "The "Turncoat" team is back with an intergalactic stoner road trip movie. This sounds amazing. I can't wait."--Multiversity

Image Comics, 9781534306684, 144pp.
Publication Date: June 5, 2018
or
Not Currently Available for Direct Purchase