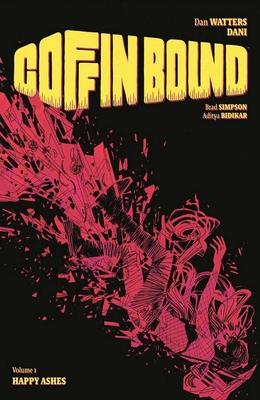 Coffin Bound Volume 1
Happy Ashes
Paperback

* Individual store prices may vary.
Description
Mad Max: Fury Road meets Neil Gaiman's Sandman in this full-throttle, grindhouse, fantasy epic. Cars Guns Entropy Izzy Tyburn has promised the world that if it won't have her in it, it'll have nothing of her at all. Chased by an unstoppable killer, she's re-treading her life, leaving nothing behind but burned rubber, ash... and the sun-scorched bones of those who get in her way. Ride shotgun on an existential road-trip through the tangled web of a blood-splattered life. Collects COFFIN BOUND #1-4. If you like Dan Watters' work on Lucifer, this is even weirder... -Neil Gaiman Wholly original. Fresh concepts and characters pop up on almost every page, courtesy of Watters' mind and Dani's art. This is a series to keep your eye on. -Entertainment Weekly It's a gleeful of literary grindhouse comic that brings to mind Milligan's Arthouse Pulp and notes of Pretty Deadly. Out in August. Pre-order now. -Kieron Gillen Dani is quite a discovery: the work is very inventive and actually very careful but the line is alive and organic-the ink just spills down and branches into the right places. And the language style Watters launches here is just wonderful-I summon Milch because it's eccentric and neo-antique like his Deadwood speech, rippling with character and drunken with its own pleasure... Coffin Bound is a damned joy. -Warren Ellis A Lynchian crime chase desert noir fever dream with its own messed up internal logic. Fun. -Rob Williams An acid drenched road trip, seeping violence and weirdness of the best kind. Definitely one to check out. --Ollie Masters Gorgeous and odd and very much its own unique monster. I am jealous at its filthy strangeness. --Ivan Brandon A gore-splattered--but poetic--road trip with one of the strangest stripper scenes in comics. --John Harris Dunning Dreamlike, mythic, relentless and strange. --Kurt Busiek Excellent. Like finding a weird Alex Cox meets Jodorowsky road movie you didn't know existed. Literate, full of ideas & complimented by Dani's Gu ra meets Pope-ish art. --Iain Laurie Pure Doom. Watters spins a fantastic Kerouac-Ian fever dream with Dani dropping some story chops, solid gesture and moody blacks. It's a great hook that will take you Under. Coffin Bound Rules --Andy Belanger Your lessons of life delivered at the end of a muzzle by a choir of grindhouse philosophers laced with the wisdom of dead birds. I can hardly think of another story so fully infused with Dan Watters and Dani aesthetic. --Ram V Coffin Bound is a distillate of madness. A slice of apocalyptic dreamtime cut with engine smoke, acid nihilism and dirty juju. This is some top-class necrofuel, my friends, and you need it in your brain-tank pronto. --Si Spurrier Coffin Bound is a comic with a strong pulse that bleeds all over your hands while reading. You should give it a read. --Declan Shalvey So fun Dani's art is gorgeous (as always ) and Brad Simpsons' colours are ridiculously nice. I just want moreeee. --Emmeline Pidgen Call your local comic shop now. Make sure they get this for you. Trust me. --Matthew Rosenberg

Image Comics, 9781534313743, 144pp.
Publication Date: March 31, 2020