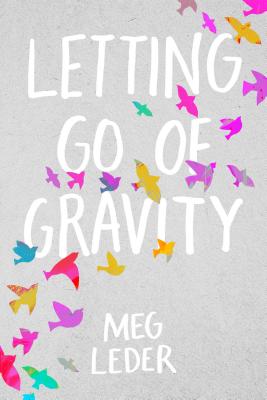 Letting Go of Gravity
Hardcover

* Individual store prices may vary.
Description
"The anticipation and slow burn of Parker and Finn's relationship is electric…[an] absorbing novel that will appeal to fans of Rainbow Rowell." —Booklist

Parker struggles to reconnect with her twin brother, Charlie—who's recovering from cancer—as she tries to deal with her anxiety about the future in this powerful new novel.

Twins Parker and Charlie are polar opposites.
Where Charlie is fearless, Parker is careful.
Charlie is confident while Parker aims to please.
Charlie is outgoing and outspoken; Parker is introverted and reserved.
And of course, there's the one other major difference: Charlie got cancer. Parker didn't.

But now that Charlie is officially in remission, life couldn't be going better for Parker. She's landed a prestigious summer internship at the hospital and is headed to Harvard in the fall to study pediatric oncology—which is why the anxiety she's felt since her Harvard acceptance is so unsettling. And it doesn't help that her relationship with Charlie has been on the rocks since his diagnosis.

Enter Finn, a boy who's been leaving strange graffiti messages all over town. Parker can't stop thinking about those messages, or about Finn, who makes her feel free for the first time: free to doubt, free to make mistakes, and free to confront the truth that Parker has been hiding from for a long time.

That she keeps trying to save Charlie, when the person who really needs saving is herself.
Praise For Letting Go of Gravity…
"A gorgeous, sad, funny, and wise book about letting go and finding your place in the world. Meg Leder has written a story about a brother and sister that will break your heart and have you whispering 'I got you' long after you've closed the book."
— Kathleen Glasgow, New York Times bestselling author of Girl in Pieces

Parker McCullough has just graduated as valedictorian, but the moment is bittersweet. Her twin brother, Charlie, is not sitting with their class, instead repeating his senior year thanks to his leukemia. Charlie isn't sure how to handle life after remission, and Parker isn't sure how to handle a future she doesn't want. Sure, she worked her butt off to get into Harvard and land that prestigious internship at Cincinnati Children's Hospital—but now the thought of becoming a doctor makes her feel sick. Fortunately, Ruby, a rising junior, becomes Parker's new friend, and she reconnects with childhood classmate Finn, a boy from the wrong side of the tracks. Talking to Finn makes her brave enough to do what she wants, leaving the internship and working at a pottery studio, where, like clay on a wheel, she finally starts to take shape. These lifelike characters are perfectly imperfect in the face of their own challenges, whether that is physical abuse, cancer, or internal emotional struggles, with none presented as being of greater value than any other. Parker's best friend Emerson is a lesbian, and Parker suffers from anxiety. Major characters are white other than Ruby, who is African-American, and there is ethnic diversity in the community. For readers who love and appreciate a good coming-of-age story, a realistic romance, and a novel where every character gets to be a hero. (Fiction. 14-adult)
— Kirkus

"A poignant and carefully crafted story…. A compelling coming-of-age novel sure to appeal to those who love realistic fiction."
— School Library Journal

"Effectively shows how illness affects families and how a person can get stuck acting out a persona and end up knowing very little about herself."
— Publishers Weekly
Simon & Schuster Books for Young Readers, 9781534403161, 432pp.
Publication Date: July 17, 2018
About the Author
A former bookseller and teacher, Meg Leder currently works as a book editor in New York City. Her role models are Harriet the Spy and Anne Shirley. She is the author of Letting Go of Gravity, The Museum of Heartbreak, the coauthor of The Happy Book, and spends her free time reading, looking for street art, and people watching. She lives in Brooklyn, New York. You can visit her website at MegLeder.com or find her on Twitter @MegLeder.
or
Not Currently Available for Direct Purchase