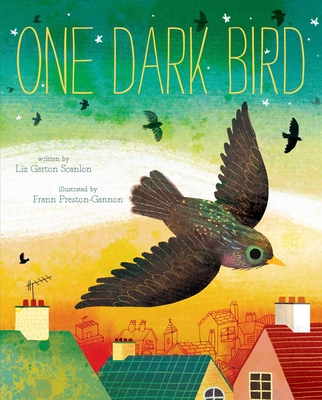 One Dark Bird
Hardcover

* Individual store prices may vary.
Description
From award-winning author Liz Garton Scanlon and celebrated artist Frann Preston-Gannon comes a gorgeously illustrated, lyrical counting book that will have young readers' imaginations taking flight.

One dark bird is perched up high, with a view of the town and a taste of the sky. Then she's joined by two more, then three, then four. Before long, there are hundreds of starlings dancing across the sky—and avoiding a hunting hawk with one of the most spectacular tricks in the animal kingdom. Then, when night comes, the starlings begin to depart, until finally there is just one dark bird perched way up high, with a view of the town and a taste of the sky.
Praise For One Dark Bird…
Scanlon's closing stanza, almost identical to the first, brings a deliciously satisfying end to the day. Digitally collaged illustrations, done in a warm color palette, use simplified shapes to playfully symbolize different objects. Close-ups of the starlings' lustrous, rainbowlike colors highlight Preston-Gannon's skillful understanding of the way light reveals itself on a dark form. A brief but thrilling description of starlings and murmurations on the title page may pique older readers' interest while the rhyming text and lush illustrations will hold the attention of all. Perfect for the budding ornithologist's bookshelf
— Kirkus Reviews

The dark, iridescent starling is the star of this arresting counting book, where 1 bird perched above a cheerful town is incrementally joined by others, giving children the chance to practice counting 1 through 10. As the day wears on, more and more starlings take to the peachy-blue sky until a hawk appears, uniting the birds in a breathtaking murmuration. To evade the predator, the flock dives and careens as one: "Waves like water / dark then light / from down to up / then left to right." Scanlon's well-written rhymes beat in time with the wings of her subjects, whose dramatic movements flow through Preston-Gannon's richly colored illustrations. Mixing digital with hand-drawn techniques, the simplistic town scenes give way to choreographed chaos in a jewel-toned sky. Aqua, teal, tangerine, emerald, and gold all frame the
starlings' impressive flight maneuvers, during which they appear as black dots or silhouettes. All these colors also appear in close-ups of the starlings' feathers, rendering each bird a dark avian rainbow. When at last the hawk has gone, the flock begins to disperse, giving readers the chance to count backwards this time, from 10 to 1, as the last starling perches in a tree, its beak tucked in sleep beneath its wing. This book goes beyond counting, showing children how wondrous ordinary can be.
— Booklist *Starred*

A small paragraph on the title page defines a murmuration ("a single-seeming mass [of birds] that performs coordinated acrobatic dances in the sky") before using a counting-book frame to illustrate one composed of starlings. "1 / dark bird / perched way up high / a view of town / a taste of sky. // 2 birds more / come winging by / then 3 / then 4 / flights multiply." Hand-drawn and digital illustrations, mostly focused on the rooftops and the bird's-eye views, convey a warm, colorful afternoon in a community full of people, pets, and bicycles. The counting stops at 10, as the spare, poetic text then compounds the number of starlings in the sky into the hundreds ("A hundred here / and there / and there / fine feathered friends / with sky to spare"), while the art shows them gathering in the sunset. When a hawk arrives on the scene and startles the birds, the murmuration begins, and each double-page spread becomes a breathtaking display of bird choreography. Finally, the birds disperse, allowing a slow counting backward from 10. Darkness overtakes the town, and birds and people begin to get ready for sleep. A pleasure to look at and think about, this story and its inspiring sky-set dance can elicit new appreciation for the natural world.
— Horn Book Magazine *STARRED REVIEW*
Beach Lane Books, 9781534404434, 40pp.
Publication Date: July 16, 2019
About the Author
Liz Garton Scanlon is the author of numerous celebrated picture books, including One Dark Bird; In the Canyon; Happy Birthday, Bunny!; the Caldecott Honor recipient All the World; and Thank You, Garden. Liz is an adjunct professor of creative writing at Austin Community College, and her poetry has been published widely in literary journals. She lives with her family in Austin, Texas. Visit her at LizGartonScanlon.com.

Frann Preston-Gannon is an illustrator and designer. Her first picture book, The Journey Home, was shortlisted for both the Waterstones Children's Book Prize and the Cambridgeshire Read it Again! Book Prize. She is also the illustrator of Busy-Eyed Day by Anne Marie Pace, One Dark Bird by Liz Garton Scanlon, and Home Is… by Hannah Barnaby, among others. She was the first UK recipient of the Sendak Fellowship and spent a month living with and learning from the great master of illustration, Maurice Sendak. She lives in London, England. Visit her online at Frann.co.uk.