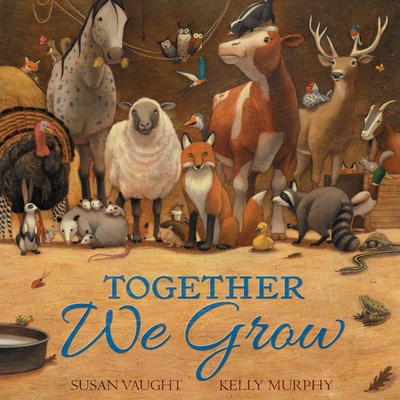 Together We Grow (Hardcover)
Simon & Schuster/Paula Wiseman Books, 9781534405868, 40pp.
Publication Date: May 26, 2020
* Individual store prices may vary.
Description
"A gentle tale of inclusion and fairness that children will clearly understand." —Booklist (starred review)
"A truly inspiring picture book that will resonate with both children and adults." —School Library Journal (starred review)
"Emotionally charged and eloquently rendered in words and art, this picture book is worth owning and cherishing." —Kirkus Reviews (starred review)
"Inviting dialogue about the need for inclusivity, Vaught offers a lyrical narrative." —Publishers Weekly (starred review)

From award-winning novelist Susan Vaught comes a poignant picture book that celebrates inclusivity, acceptance, and the importance of rebuilding a community in the wake of disaster.

Lightning gash!
Windy lash!

A storm drives all the farm animals indoors except for a lonely fox family. The barn isn't their home. But where will they go for safety?

This stunning picture books explores themes of acceptance and belonging:
Large or small,
Short and tall,
There is room,
There is room,
There is room
For us all.
About the Author
Susan Vaught is the author of Edgar Award­–winning novel Footer Davis Probably Is Crazy. It was a Junior Library Guild Selection, and The Horn Book called it "compelling, offbeat, and fearless." Things Too Huge to Fix by Saying Sorry received three starred reviews, and Super Max and the Mystery of Thornwood's Revenge was called "an excellent addition to middle grade shelves" by School Library Journal. She works as a neuropsychologist at a state psychiatric facility, specializing in helping people with severe and persistent mental illness, intellectual disability, and traumatic brain injury. She lives on a farm with her wife and son in rural western Kentucky.

Kelly Murphy is a New York Times bestselling author-illustrator and recipient of the E.B. White Award. She teaches illustration at her alma mater, the Rhode Island School of Design. Kelly currently lives in her native New England, surrounded by the flora and fauna featured in Together We Grow. Find out more at KelMurphy.com.
Praise For Together We Grow…
In times of need, uneasy alliances align. Enemies become partners, if only for a little while.This sweet picture book, told in rhyming couplets, pairs Vaught's lean, soothing text with Murphy's exquisite illustrations. Vaught is a practicing neuropsychologist and a lover of animals. Both traits play well in this tale that imagines a dark and stormy night in which its barnyard beasts must decide whether to shelter outsiders. A family of foxes is caught out in the storm, and the mother is desperate to protect her kits's. Understandably, the farm animals, normally prey for the fox, are not eager to share the warmth of their barn. However, the generous actions of the tiniest among them, a yellow duckling, allows the other creatures to see that in this time of crisis, even foxes need refuge. Murphy creates stunning images of deep blue stormy skies, and cows', pigs', chicken's, and other animals' emotion-filled eyes. Scenes that shift between the cold, wet out-of-doors and the cozy, well-lit interior emphasize the foxes' predicament. Vaught's clipped, staccato couplets speed the pacing along, occasionally halting so readers can take in Murphy's well-timed wordless spreads. One, in which mother fox and duckling commune silently, muzzle to bill, will have readers lingering and pondering.Emotionally charged and eloquently rendered in words and art, this picture book is worth owning and cherishing. (Picture book. 4-8)
— Kirkus Reviews, STARRED REVIEW

With a thunderstorm threatening, the animals on the farm seek shelter in the barn. The darkening sky, heavy rain, and lashing wind are contrasted with the warm, yellow light spilling from the barn, which promises a haven from the elements. The building fills with the usual sheep, horses, pigs, and chickens, as well as a raccoon, squirrel, turtle, and skunk seeking respite from the torrential rain. When a mother fox comes looking for a dry spot for herself and her kits, though, the others tell her, "Go away! We're full today!" It takes one of the smallest critters in the barn to show empathy and literally reach out toward the fox and her family. The group's world expands when they recognize how needlessly fearful and selfish they're being in not sharing their safe, secure refuge. Lovely illustrations using acrylic paints, oil paints, and gel medium create charming images of the vast array of animals that get along harmoniously in the small space. The tale is told in short rhyming couplets that, along with the appealing pictures, present a sense of unity among the diverse barn population. Here is a gentle tale of inclusion and fairness that children will clearly understand.
— Booklist *Starred*

Inviting dialogue about the need for inclusivity, Vaught (Things Too Huge to Fix by Saying Sorry) offers a lyrical narrative in concise rhyming couplets that are fleshed out in dramatic mixed-media illustrations by Murphy (The Slowest Book Ever). As dark clouds overtake the sky, farm animals dash toward a barn to take refuge from an impending storm: "Lightning gash!/ Windy lash!" Huddled together, the menagerie (which includes a few critters—frogs, raccoons, a snail—not usually associated with barn life) looks up apprehensively at a window where a fox appears ("Go away!/ We're full today!"). After one intrepid duckling ventures out into the lashing rain—and, in a stirring full-bleed spread, is seen face-to-face with the fox—the animals emerge to help usher the vulpine family into their dry sanctuary, where all—"Brindle and gray,/ dapple or bay"—remain until blue skies return. Murphy makes effective use of shadow and light in pictures that convey the expressive animals' apprehension and eventual change of heart—and underscore the importance of trust and acceptance. Ages 4–8. (May)
— Publishers Weekly *STARRED*

*VAUGHT, Susan. Together We Grow. illus. by Kelly Murphy. 40p. S. & S./Paula Wiseman Bks. May 2020. Tr $17.99. ISBN 9781534405868.

PreS-Gr 1– A severe rainstorm lures a series of different animals, big and small, together for shelter in a barn. The fox family is initially shunned, as all the animals yell: "Go away! We're full today!" A lone duck, however, is brave and compassionate enough to approach them, demonstrating that to "learn and show together we grow" is the best approach. Ultimately, with acceptance, teamwork, and sharing during a catastrophe, "there is room for all." Vaught's spare, meticulous rhyming text perfectly complements Murphy's eye-catching illustrations, which begin with a striking blue sky severed by jagged white lines for lightning. The lone duck is illuminated in bright yellow–a positive touch about the enlightening power of kindness and compassion in the midst of gloomy dark danger. The phrase "together we grow" is a bit unclear compared to the more apt "love prevails" and "there is room for us all." Nonetheless, the overall message about working together effectively despite differences in times of need is a worthy lesson. VERDICT A truly inspiring picture book that will resonate with both children and adults.–Etta Anton, Yeshiva of Central Queens, NY
— School Library Journal STARRED REVIEW