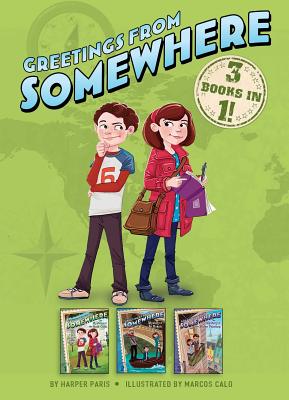 Greetings from Somewhere 3 Books in 1! (Paperback)
The Mystery of the Gold Coin; The Mystery of the Mosaic; The Mystery of the Stolen Painting
Little Simon, 9781534409354, 384pp.
Publication Date: July 4, 2017
* Individual store prices may vary.
Description
Join Ethan and Ella as they travel all around the world with the first three Greetings from Somewhere tales in this awesome paperback edition.

Ethan and Ella are ready to embark on a journey around the world! But before the twins even leave, mysterious things start to happen. First, Ethan's special gold coin goes missing. Then, in Venice, Italy, the twins meet a man whose boat has been taken, while in Paris, France, a precious painting is stolen from a museum. It's up to the twins to solve one mystery after another in this action-packed three-book collection!

With easy-to-read language and illustrations on almost every page, the Greetings from Somewhere chapter books are perfect for beginning readers. This bind-up edition includes The Mystery of the Gold Coin, The Mystery of the Mosaic, and The Mystery of the Stolen Painting.
About the Author
Harper Paris loves to travel. Her favorite cities in the world are Paris (like her name!) and New York City. She has collected many souvenirs on her travels, including a good-luck coin from Japan and a reindeer-horn pendant from Sweden. She also loves mysteries. When she was a kid, she read Hardy Boys and Nancy Drew books after bedtime with a flashlight. She now lives with her family (including two cats and a bunny, who are not good travelers) in Ithaca, New York.

Marcos Calo has worked as a professional artist for more than fourteen years. He has worked in different fields including illustration, animation, and comic books. He lives with his wife and daughter in A Coruña, a small Spanish town by the seaside.