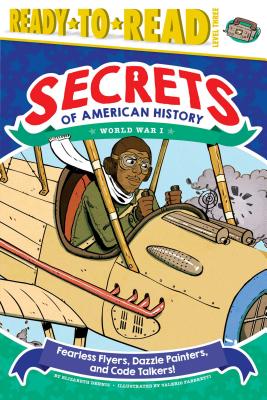 Fearless Flyers, Dazzle Painters, and Code Talkers! (Paperback)
World War I (Secrets of American History)
Simon Spotlight, 9781534410510, 48pp.
Publication Date: February 6, 2018
* Individual store prices may vary.
Description
Discover the thrilling side of the history of World War I in this fact-tastic, nonfiction Level 3 Ready-to-Read, part of a new series about the secrets of American History!

Do you know about the adventures of Eugene Bullard, the first African-American fighter pilot, who fought in World War I? Did you know that, in the same war, America used a kind of camouflage called Dazzle Painting that made ships look like Easter eggs? Or that Americans Indians sent secret messages as code talkers in the Choctaw Telephone Squad? Find out in this book of amazing true stories!

Secrets of American History is an action-packed nonfiction Level 3 Ready-to-Read series that lets beginning readers in on a little secret: history is full of surprises! Want to know what invisible ink has to do with the American Revolution? Or why shark repellant and inflatable army tanks were used in World War II? Find out in this fact-filled series of fascinating true tales, wild adventures, and spy missions, and discover the secret side of American history!
About the Author
Elizabeth Dennis grew up in Arizona, where she loved finding teeny, tiny, fairy-sized wildflowers in the desert and seeing double rainbows over the mountains. Nowadays, she lives in New York City and writes and edits books for children, and still loves flowers, nature, and double rainbows!

Valerio Fabbretti is passionate about drawing, comic books, animation, and spaghetti westerns. He has illustrated children books and comic books in the US and in Italy. Valerio was born in Rome, but studied illustration in San Francisco, where he is currently living and working.