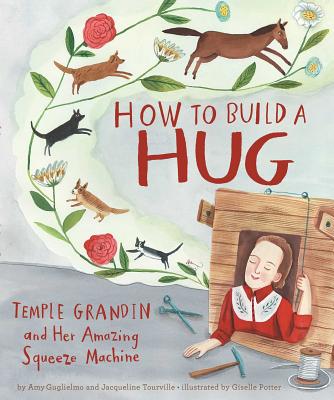 How to Build a Hug
Temple Grandin and Her Amazing Squeeze Machine
Hardcover

* Individual store prices may vary.
Description
Amy Guglielmo, Jacqueline Tourville, and Giselle Potter come together to tell the inspiring story of autism advocate Dr. Temple Grandin and her brilliant invention: the hug machine.

As a young girl, Temple Grandin loved folding paper kites, making obstacle courses, and building lean-tos. But she really didn't like hugs. Temple wanted to be held—but to her, hugs felt like being stuffed inside the scratchiest sock in the world; like a tidal wave of dentist drills, sandpaper, and awful cologne, coming at her all at once. Would she ever get to enjoy the comfort of a hug?

Then one day, Temple had an idea. If she couldn't receive a hug, she would make one…she would build a hug machine!
Praise For How to Build a Hug: Temple Grandin and Her Amazing Squeeze Machine…
"A picture book explores Temple Grandin's first innovation, a personalized hug machine.... Guglielmo and Tourville present Grandin's story with respect and enthusiasm....lovely."
— Kirkus Reviews

"Potter's watercolors . . . convey Grandin's intelligence, inventiveness and social challenges, emphasizing both her intense reaction to hyperstimulation and her calm demeanor under situational control. An author's note offers additional information on Grandin's life and the innovative therapies deriving from her 'hug machine.' Although readers interested in autism will be a prime audience, this engaging title will be well received in invention-themed reading programs as well."
— BCCB

"Guglielmo and Tourville (Pocket Full of Colors: The Magical World of Mary Blair) team up again to present a picture book biography of noted out-of-the-box thinker, Temple Grandin. The authors focus on young Grandin's creativity and ingenuity and her sensitivity to sights, sounds, smells, and touch—being hugged "felt like being stuffed inside the scratchiest sock in the world."... Potter skillfully depicts Grandin's experience using her familiar folk art style... VERDICT: An inspiring look at the development of a scientist and advocate. Highly recommended for biography sections as well as for elementary STEAM curricula."
— School Library Journal

"Guglielmo and Tourville gently present the story behind Grandin's "squeeze machine," describing Grandin's childhood love of building and design, as well as her sensitivities... Hugs, in particular, she found unbearable. But, the authors explain, Grandin discovered that external pressure placed on her body made her feel secure... Potter's warm illustrations feature human and animal figures that are reminiscent of folk art dolls while showing Grandin's discomfort with outside stimulation. The authors avoid overt mention of autism in the story, but back matter elaborates on Grandin's life, career, and contributions to autism awareness."
— Publishers Weekly

"Grandin's story is tenderly told. The consternation the young girl feels at her inability to partake in a fundamental human experience is abundantly clear through Potter's woodcut-style, sensory illustrations, and her eventual solution feels like a unique triumph. An author's note explains how Grandin's experience with autism has shaped her life and her activism."
— Booklist

"The authors take readers from Grandin's early childhood through her young adulthood, lightly sketching in biographical information in order to focus on her antipathy to being hugged by others and her resultant invention. Potter's illustrations capture Grandin's likeness well and frequently show her with tools in hand or near animals, reinforcing the text's emphasis on these interests."
— The Horn Book
Atheneum Books for Young Readers, 9781534410978, 48pp.
Publication Date: August 28, 2018
About the Author
Amy Guglielmo lives a life in pictures. In addition to writing about art, artists, and makers, she is a painter, teacher, and supporter of arts education for children of all ages. Amy once created a Barbie house, equipped with a working elevator, and she is an A-plus hugger. She lives with her husband on the Adirondack coast of Lake Champlain. You can visit Amy online at AmyGuglielmo.com.

Jacqueline Tourville's experience working with children with autism as a public school teacher opened her eyes to the importance of inclusive stories for kids. The author of Albie's First Word: A Tale Inspired by Albert Einstein's Childhood and coauthor with Amy Guglielmo of Pocket Full of Colors: The Magical World of Mary Blair, Disney Artist Extraordinaire, Jacqueline lives in Maine with her family. Ask her about the miniature log cabin she once built for her cat! Visit her at JacquelineTourville.com.

Giselle Potter has illustrated many books, including Kate and the Beanstalk by Mary Pope Osborne, an ALA-ALSC notable book; The Boy Who Loved Words by Roni Schotter, a Parents' Choice Gold Award winner; and Cecil the Pet Glacier by Matthea Harvey. She is the author and illustrator of Tell Me What to Dream About and This Is My Dollhouse—both inspired by her daughters—and The Year I Didn't Go to School, about traveling through Italy with her parents' puppet troupe when she was eight. Giselle also illustrates "Ties," a weekly column in the Well section of The New York Times. She lives in Rosendale, New York, with her husband and two daughters. Visit her at GisellePotter.com.