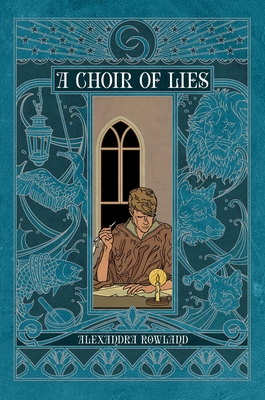 A Choir of Lies (Hardcover)
Gallery / Saga Press, 9781534412835, 320pp.
Publication Date: September 10, 2019
* Individual store prices may vary.
Description
A young storyteller must embrace his own skills—and the power of stories—to save a nation from economic ruin, in the standalone sequel to A Conspiracy of Truths.

Three years ago, Ylfing watched his master-Chant tear a nation apart with nothing but the words on his tongue. Now Ylfing is all alone in a new realm, brokenhearted and grieving—but a Chant in his own right, employed as a translator to a wealthy merchant of luxury goods, Sterre de Waeyer. But Ylfing has been struggling to come to terms with what his master did, with the audiences he's been alienated from, and with the stories he can no longer trust himself to tell.

That is, until Ylfing's employer finds out what he is, what he does, and what he knows. At Sterre's command, Ylfing begins telling stories once more, fanning the city into a mania for a few shipments of an exotic flower. The prices skyrocket, but when disaster looms, Ylfing must face what he has done and decide who he wants to be: a man who walks away and lets the city shatter, as his master did? Or will he embrace the power of story to save ten thousand lives?

With a memorable cast of characters, starring a fan-favorite from A Conspiracy of Truths, and a timely message, Choir of Lies reminds us that the words we wield can bring destruction—or salvation.
About the Author
Alexandra Rowland grew up on a sailboat in the Caribbean and then in a house in Florida. Sick to death of the tropics, she attended Truman State University in northern Missouri, where she studied world literature, mythology, and folklore. She now lives in western Massachusetts where she works as a game monitor at an escape room company, occasional bespoke seamstress, and writer under the stern supervision of her feline quality control manager. She can be found on Twitter as @_AlexRowland. She is the author of A Conspiracy of Truths and Choir of Lies.

Drew Willis is an art director and illustrator working in New York City. Visit him at DrewWillis.com.