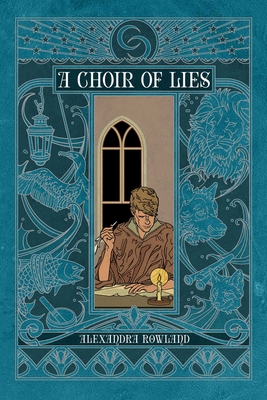 A Choir of Lies
Paperback

* Individual store prices may vary.
Other Editions of This Title:
Digital Audiobook (9/15/2019)
Hardcover (9/10/2019)
Description
The follow-up to the fan-favorite A Conspiracy of Truths "reveals the author's stunning prose, beautiful worldbuilding, and emotional detail," (Library Journal, starred review) and serves as a timely reminder that the words we wield can bring destruction—or salvation.

Three years ago, Yfling watched his master-Chant tear a nation apart with nothing but the words on his tongue. Now Ylfing is all alone in a new realm, brokenhearted and grieving—but a Chant in his own right, employed as a translator to a wealthy merchant of luxury goods, Sterre de Waeyer. But Ylfing has been struggling to come to terms with what his master did, with the audiences he's been alienated from, and with the stories he can no longer trust himself to tell.

That is, until Ylfing's employer finds out what he is, what he does, and what he knows. At Sterre's command, Ylfing begins telling stories once more, fanning the city into a mania for a few shipments of an exotic flower. The prices skyrocket, but when disaster looms, Ylfing must face what he has done and decide who he wants to be: a man who walks away and lets the city shatter, as his master did? Or will he embrace the power of stories to save ten thousand lives?

In this "wise, moving, and captivating adventure" (Publishers Weekly, starred review), a young storyteller must embrace his own skills and discover that a story can be powerful enough to bring a nation to its knees, certainly. But in the right hands, a story can rebuild a broken dam, keep the floodwaters back, and save a life—or thousands of lives.
Praise For A Choir of Lies…
"If A Conspiracy of Truths was a story about stories, then A Choir of Lies, its stunning sequel, is a love letter to storytellers. Rowland uses unreliable narrators to break our hearts and mend them. Readers and writers alike will come away feeling like they've been entrusted with the best kind of secret."—A.J. Hackwith, author of The Library of the Unwritten

"In a voice that is equal parts clever, charming, funny and poignant, Rowland will have you spellbound from page one with this unique and fascinating tale."—Sam Hawke, author of City of Lies

"Alexandra Rowland's story about the power of stories and the obligations of those who tell them is extraordinary. They have woven something truly magical out of this tale of human experience, greed, redemption, and most of all, the power of being good."—Jen Lyons, author of The Ruin of Kings

"A Choir of Lies is insightful, beautiful, and hysterically funny, showing the power of stories for good or ill."—Stephen Blackmoore, author of Fire Season

"In A Choir of Lies, Rowland combines a uniquely crafted narrative, a vibrant, tactile world, and a nuanced exploration of storytelling into a novel that simply sings."—Rowenna Miller, author of Torn

"Hopeful and wise, A Choir of Lies examines how badly a story can go awry—and also how much it can repair. I loved it."—World Fantasy Award-winning author Cat Rambo

"Rowland's follow-up to A Conspiracy of Truths reveals the author's stunning prose, beautiful worldbuilding, and emotional detail. Highly recommended."
— Library Journal, starred review
Gallery / Saga Press, 9781534412842, 464pp.
Publication Date: June 2, 2020
About the Author
Alexandra Rowland is the author of A Conspiracy of Truths, A Choir of Lies, and Finding Faeries, and occasionally, a bespoke seamstress under the stern supervision of their feline quality control manager. They hold a degree in world literature, mythology, and folklore from Truman State University, and they are one of three hosts of the Hugo Award–nominated literary podcast, Be the Serpent. Find them at AlexandaRowland.net, on Twitter @_AlexRowland, or wandering the woods of western Massachusetts.