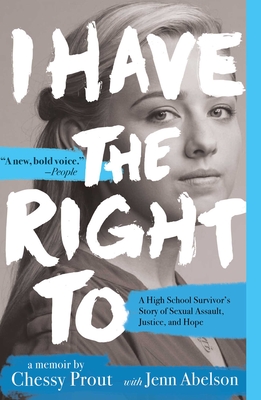 I Have the Right To
A High School Survivor's Story of Sexual Assault, Justice, and Hope
Paperback

* Individual store prices may vary.
Other Editions of This Title:
Digital Audiobook (3/5/2018)
Hardcover (3/6/2018)
CD-Audio (3/6/2018)
Description
"A bold, new voice." —People
"A nuanced addition to the #MeToo conversation." —Vice

A young survivor tells her searing, visceral story of sexual assault, justice, and healing in this gutwrenching memoir.

The numbers are staggering: nearly one in five girls ages fourteen to seventeen have been the victim of a sexual assault or attempted sexual assault. This is the true story of one of those girls.

In 2014, Chessy Prout was a freshman at St. Paul's School, a prestigious boarding school in New Hampshire, when a senior boy sexually assaulted her as part of a ritualized game of conquest. Chessy bravely reported her assault to the police and testified against her attacker in court. Then, in the face of unexpected backlash from her once-trusted school community, she shed her anonymity to help other survivors find their voice.

This memoir is more than an account of a horrific event. It takes a magnifying glass to the institutions that turn a blind eye to such behavior and a society that blames victims rather than perpetrators. Chessy's story offers real, powerful solutions to upend rape culture as we know it today. Prepare to be inspired by this remarkable young woman and her story of survival, advocacy, and hope in the face of unspeakable trauma.
Praise For I Have the Right To: A High School Survivor's Story of Sexual Assault, Justice, and Hope…
"A new, bold voice."
— People Magazine

"A nuanced addition to the #MeToo conversation."
— VICE

* "Candid and inspiring…Powerful, essential reading for all high school and college students, parents, and educators."
— Kirkus Reviews, STARRED REVIEW

* "Readers will instantly connect with Prout's genuineness and her candor…This outstanding memoir is a must for YA collections."
— School Library Journal, STARRED REVIEW

"Heartbreaking."
— The Boston Globe

"An unfiltered look into [Chessy's] assault, the high-profile criminal trial and her decision to go public. The memoir [will take] readers on an emotional journey."
— The Concord Monitor

"Honest and raw....Readers will take away a deep appreciation and admiration for Prout's resilience as she transitions into a resolute crusader for the empowerment of victims of sexual violence—and for its prevention."
— Publishers Weekly

"Both heartbreaking and hopeful, an honest and frank testimony; it is an important (if difficult) read that acts as both an eye-opener and a call to action."
— Shelf Awareness for Readers
Margaret K. McElderry Books, 9781534414440, 416pp.
Publication Date: March 5, 2019
About the Author
Chessy Prout is a high school sexual assault survivor. Raised in Japan, Chessy matriculated to St. Paul's School—a boarding school in New Hampshire that her father and sister attended. There, as a freshman, Chessy was the victim of a sexual assault. Chessy's case and eventual trial garnered national and international media attention, as her assault was part of a ritual competition at the school called the "Senior Salute." Two years later, in Chessy's pursuit for justice, she decided to step forward publicly in August 2016 and launched the #IHaveTheRightTo initiative with the organization PAVE. As a PAVE Ambassador, Chessy worked with K–12 schools to speak about the importance of consent education. In 2017, Chessy cofounded I Have The Right To Org., a national non-profit in Washington, DC, dedicated to raising awareness of sexual assault in high schools. She has traveled around the country and internationally, sharing her story, and encouraging survivors to know and assert their most basic rights. Chessy is also a student at Barnard College and continues to use her voice to advocate and let other survivors know they are not alone. Learn more at IHaveTheRightTo.org.

Jenn Abelson is an investigative reporter for The Washington Post and coauthor of the memoir, I Have the Right To: A High School Survivor's Story of Sexual Assault, Justice, and Hope, by Chessy Prout. Her work with the Post's investigative team on America's deadly opioid epidemic was recognized as a 2020 Pulitzer Prize finalist in Public Service. Jenn joined The Washington Post in 2019 after working as an investigative reporter for the Boston Globe Spotlight Team. Her investigations have exposed sexual assault at prep schools in New England, sexual harassment at ESPN, and sexual misconduct in the modeling industry. She has also investigated doctors secretly performing two surgeries at the same time and the widespread mislabeling of fish in the restaurant industry. In 2015, she was named a Pulitzer Prize finalist for her work with the Spotlight Team on Shadow Campus, a series about dangerous off-campus college housing. Jenn grew up in New York, attended Cornell University, and lives in Washington, DC.
or
Not Currently Available for Direct Purchase