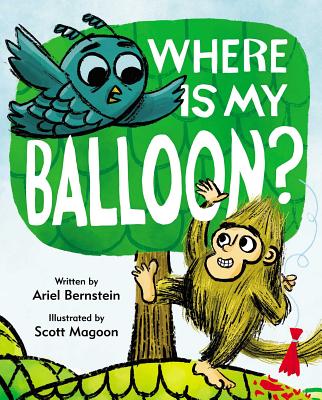 Where Is My Balloon? (Hardcover)
Simon & Schuster/Paula Wiseman Books, 9781534414518, 40pp.
Publication Date: January 22, 2019
* Individual store prices may vary.
Description
"Fans of Elephant and Piggie will be right at home with the humor and the repartee." —Kirkus Reviews
"Vibrant art and a comical text make this a great pick for storytime." —Booklist

Owl and Monkey from I Have a Balloon are back! But what happened to Owl's balloon? Find out in this hilarious picture book about making mistakes and finding forgiveness.

Owl has a balloon. Monkey has a sock with a star and a perfectly shaped hole. But then Owl asks Monkey to hold his balloon, just for a second. What do you think happens? POP! When Owl returns and asks for his balloon, Monkey offers him everything under the sun…except for the balloon. Can their friendship survive this catastrophe?

Kirkus Reviews praised Owl and Monkey's first adventure, I Have a Balloon, "This tightly paced narrative soars," in a starred review.
About the Author
Ariel Bernstein is very good at sharing. As long as it's not movie popcorn and M&M's. She is the author of I Have a Balloon (which received starred reviews from School Library Journal and Kirkus Reviews and was a Junior Library Guild Selection) and Where Is My Balloon? She lives in New Jersey with her family, many mismatched socks, and the occasional balloon. Learn more at ArielBernsteinBooks.com.

Scott Magoon is the author-illustrator of Breathe, a Kirkus Reviews Best Read Aloud, a Huffington Post Best Book of 2014, and Chicago Public Library Best Book of 2014; and The Boy Who Cried Bigfoot, which Kirkus Reviews called, "Entertaining and clever—and that's no lie." Among the many books he has illustrated is Mostly Monsterly by Tammi Sauer, which School Library Journal called, "A fun and delightful read for all children who have both a monsterly and a kind side." Scott lives in the Boston area with his wife and two sons. Visit him online at ScottMagoon.com.
Praise For Where Is My Balloon?…
Can Monkey be trusted to look after Owl's balloon? When Owl asks Monkey to hold their balloon, Monkey's excited. Monkey puts the balloon in their toy sock. They tie the balloon to their sock. They hit the balloon with their sock…and the balloon pops. When Owl returns and asks for the balloon back, Monkey tries substituting other items, but neither the pillow, the chair, nor the fire engine tricks Owl. After Owl punctures all of Monkey's prevarications, Monkey comes clean about the fate of Owl's balloon. Owl is so angry that while Monkey is sobbing, Owl rips up Monkey's sock! Now it's Owl's turn to substitute items. Bernstein and Magoon reteam for this second Owl and Monkey (and balloon) tale, following I Have a Balloon (2017), this time addressing owning up (eventually) to mistakes made. Fans of Elephant and Piggie will be right at home with the humor and the repartee (although the entirety of the text is dialogue, it is not in speech bubbles). Though the tale might not model best behavior, young listeners will identify with the two friends. Magoon's digitally rendered illustrations are bright, dynamic, and expressive with heavy lines, and they reinforce the characters' emotions nicely. The two scenes where first Monkey and then Owl are overcome will have readers in stitches. Good for storytimes on honesty and sharing…even if Monkey and Owl don't have those concepts under their fur and feathers quite yet. (Picture book. 2-7)
— Kirkus

Bernstein introduces a humorous narrative of a bailor and bailee in this story of Owl and Monkey's misunderstanding. When Owl entrusts his friend Monkey to take care of his red balloon, Monkey agrees but soon becomes distracted by the balloon's splendor. Once Owl departs, Monkey gleefully plays with it until he accidentally pops it! Owl eventually returns to claim his red balloon, and Monkey takes one looks at the deflated results and tries to pass off any number of objects in its place. He offers a red chair, a big red fire engine, a big red flying parachute, and so on, but Owl isn't fooled! Eventually Monkey comes clean, but in a humorous closing twist, Owl gets a taste of his own medicine. Bernstein's message about stewardship, responsibility, and trust when caring for another's belongings is certainly present, but the humorous interactions, depicted in Magoon's splendidly over-the-top illustrations in bold colors, thick black outlines, and outsize expressions, are the star of the show. Vibrant art and a comical text make this a great pick for storytime. — Vivian Alvarez
— Booklist

In this sequel to I Have a Balloon (BCCB 9/17), Owl foolishly leaves Monkey in charge of Owl's favorite red balloon, but Monkey roughhouses with it until it pops. Upon Owl's return, a guilty Monkey tries to fob off other objects, such as a chair and fire truck, on Owl, but none of these are the balloon that is "big and red and flies in the air." When Owl discovers the truth, his tantrum, unbeknownst to Monkey, destroys Monkey's favorite sock, so when Monkey suggests they play with the sock instead, it's Owl's turn to deceptively cover up his mistake. Monkey and Owl's childlike antics are giggleworthy, and children will sympathize with the characters' attempts to hide their wrongdoings. Magoon's thick, markery lines deftly convey the character's histrionic emotions; extensive full-bleed washes of blue and red emphasize the strength of Monkey's guilt and Owl's anger and sadness over the lost balloon, and Monkey's eventual confession and apology are splayed urgently across the page in ragged font. The book doesn't offer magic solutions to the destruction of the animals' favorite items, but it does provide a lot of sympathy for a situation that kids will readily recognize. The tale thankfully avoids a preachy message about forgiveness or honesty about one's mistakes, but it implies that a guilty confession will come sooner or later, and it may be better to let it out sooner.
— BCCB