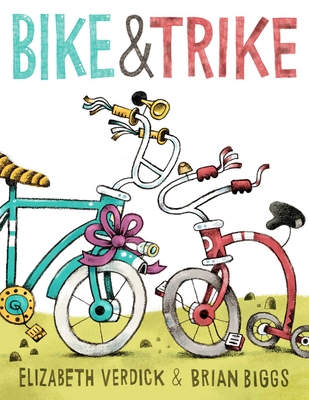 Bike & Trike
Hardcover

* Individual store prices may vary.
Description
"An amusing friendship story that's just right for reading aloud." —Publishers Weekly
"Everyone's indeed a winner here." —Kirkus Reviews
"A sure bet for read-aloud fun." —Booklist

Toy Story meets Cars in this sweet and relatable story that explores universal themes of friendship and growing up.

Look out, world! There's a shiny, new Bike in town. But what does this mean for rusty, old Trike?

Trike is a rusty little fellow, a trusty little fellow, on three worn-down wheels. Now that Lulu has outgrown him, he's lonely in the garage. But then a newcomer shows up. He's shiny and big and has FOUR wheels. It's BIKE! Gulp. Trike worries that Bike won't know how to take care of Lulu. Bike won't listen, and challenges Trike to a race. It's ON!

Who will win?
Praise For Bike & Trike…
A battered old tricycle and a new bike make friends—but not without hitting a few bumps in the road. Lulu and Trike have been together for years…but Lulu keeps getting bigger, and one day a brand-new birthday bike sails into the garage: "Watch this trick," he crows, popping a wheelie and zooming through Hula Hoop. Ignoring Trike's cautions about safety ("Aw, back off, old-timer") Bike proposes a riderless race to the nearby woods. And so they're off, with Trike struggling to keep up ("You can DO this," he tells himself, "for Lulu and the way the two of us flew"). Then, seeing Bike careening heedlessly toward a cliff, Trike selflessly puts on an extra burst of speed to head off disaster with a mighty collision. "I guess I have a lot to learn," says penitent Bike, and back to the garage they go, "two winners on wheels." Verdick tells the tale in a characteristic mix of exuberant sound effects and euphonic phrasing, with short sentences making the relatively high page count fly. Along with kitting out shiny Bike with splendid streamers, lights, training wheels, and even a horn, Biggs pairs Lulu at the end with an equally thrilled little brother (both white) just the right size for a hand-me-down. Everyone's indeed a winner here, and the subtle message about safety consciousness is likewise right on track.
— Kirkus Reviews

Growing pains abound in this vehicular tale about change and new beginnings. Outgrown by child Lulu, red Trike languishes in the garage ("a rusty little fellow,/ a trusty little fellow") until teal Bike arrives, a gift for Lulu's birthday. Lonely and insecure, Trike worries that the child will forget all they braved together: "summer bees,/ skinned knees" and the terrible day Lulu finally outgrew her tricycle ("No go," says her younger sibling, Tru). Challenged to a race by overconfident, wheelie-popping Bike ("a happy young fellow, a snappy young fellow"), careful Trike sees an opportunity to secure safety for Lulu, but calamity strikes when the two hit the road. Together, Bike's uncontrolled enthusiasm and Trike's cautious concern represent two very real and often competing emotions commonly felt during times of significant change. Rhythmic, personality-laden text by Verdick (Small Walt) couples with dynamic anthropomorphic energy and emotion dexterously conveyed by Biggs (The Space Walk) to create an amusing friendship story that's just right for reading aloud. Ages 4–8. Author's agent: Mary Cummings, Betsy Amster Literary Enterprises. Illustrator's agent: Steven Malk, Writers House. (Feb.)
— Publishers Weekly *

A lonely old tricycle reminisces about his good times with Lulu, who has outgrown him now. Suddenly, the garage door rumbles open and a snappy, young bicycle rolls in. Confiding that he's "a secret surprise," Bike whizzes around Trike and pops a wheelie. Feeling protective of Lulu, Trike tries to talk about her, but Bike won't listen. They head out to the big hill, where reckless Bike veers off-road, unknowingly heading toward a cliff. Dashing up to collide with Bike, Trike prevents a dangerous fall and then jokes about their crash. Bike admits he has a lot to learn, and they become friends, just in time for Lulu's birthday. Children will readily understand both characters' points of view. The simple story has a well of genuine emotion, reflecting the attachment that many kids (and adults) feel for their tricycles and bicycles. Well-crafted and sometimes amusing, the text creates a sure sense of the characters, who spring to life in the quirky, imaginative illustrations, expressively "rendered in pencil and pixels." A sure bet for read-aloud fun.
— Booklist
Simon & Schuster/Paula Wiseman Books, 9781534415171, 48pp.
Publication Date: February 25, 2020
About the Author
Elizabeth Verdick has written more than thirty books for toddlers to teens. She collaborated with Marc Rosenthal on Small Walt, which Kirkus Reviews called "reminiscent of Virginia Burton's classics" in a starred review; and its sequel, Small Walt and Mo the Tow. She is also the author of Bike & Trike, illustrated by Brian Biggs. She is a graduate of the Hamline University MFA program and lives in Woodbury, Minnesota. Learn more at ElizabethVerdick.com.

Brian Biggs is the author and illustrator of many books for kids, including the Tinyville Town books, the New York Times bestselling Frank Einstein series (written by Jon Scieszka), Everything Goes, and Bike & Trike by Elizabeth Verdick. Brian has worked as an art director, graphic designer, and animator for interactivity and multimedia projects. His illustrations have appeared in magazines, newspapers, advertising, posters, toys, and puzzles. He works in an old garage. Visit him at MrBiggs.com.
or
Not Currently Available for Direct Purchase