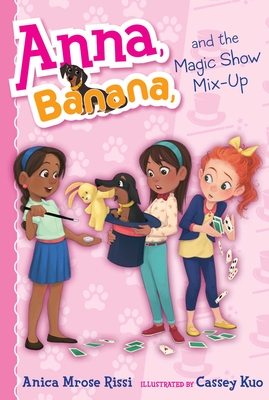 Anna, Banana, and the Magic Show Mix-Up (Paperback)
Simon & Schuster Books for Young Readers, 9781534417212, 160pp.
Publication Date: November 5, 2019
Other Editions of This Title:
Hardcover (11/5/2019)
* Individual store prices may vary.
Description
When preparing for a magic show, Anna and her friends find a talent for trouble instead in the eighth book of this "fast-paced, fun, and funny" (Megan McDonald, bestselling author of the Judy Moody series) illustrated chapter book series about the joys and challenges of elementary school friendships.

Anna, Sadie, and Isabel develop an interest in magic tricks when their frenemy Justin mystifies them with a cool card trick but refuses to tell them how he did it. Determined to figure it out for themselves, the girls set out for the best place to find answers—the library!—ready to learn every magic trick in the book.

But magic isn't as easy as it appears, even with a book of instructions. When Anna goes to her neighbor Mrs. Shirley for advice, she finds out that while Mrs. S doesn't know any magic tricks herself, her very favorite birthday party ever was a magician show where the magician pulled a rabbit out of a hat. With the neighborhood potluck coinciding with Mrs. Shirley's seventy-sixth birthday, Anna and her friends decide to practice their own magic act to perform for her, but a whole slew of mix-ups ensue as they try to puzzle out how the tricks are done and how to figure out Justin's secret, too. Can Anna and her friends perform some magic and get the mix-ups under control before—presto—it's showtime?
About the Author
Anica Mrose Rissi grew up on an island off the coast of Maine, where she read a lot of books and loved a lot of pets. She now tells and collects stories, makes up songs on her violin, and eats lots of cheese with her friends in Princeton, New Jersey, where she lives with her dog, Arugula. Find out more at AnicaRissi.com and follow @AnicaRissi on Twitter.

Cassey Kuo is a visual development artist and illustrator. Born and raised in New Jersey, she has enjoyed drawing for as long as she can remember and now spends nearly all of her time creating art. When she is not hidden in the studio, she can be found dancing, rock climbing, and generally staying active. Find out more at Kckuo.com and follow @Sleepy_KC on Instagram.