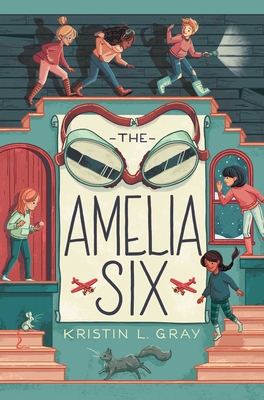 The Amelia Six
Hardcover

* Individual store prices may vary.
Other Editions of This Title:
Digital Audiobook (3/28/2022)
Paperback (6/1/2021)
MP3 CD (3/29/2022)
Compact Disc (3/29/2022)
Description
"A cozy whodunit that cheerfully affirms girls' and women's contributions to aerospace." —Kirkus Reviews
"Comparisons with Nancy Drew and Sammy Keyes come to mind, but this satisfying mystery seems more like the works of Ellen Raskin, E.L. Konigsburg, and Gennifer Choldenko." —School Library Connection
"A wonderful tribute to [Amelia Earhart] who herself came to embody mystery." —Booklist

Amelia Earhart's famous aviator goggles go missing and eleven-year-old Millie has to find them before the night is over in this girl-powered middle grade whodunit.

Eleven-year-old Amelia Ashford—Millie to her friends (if she had any, that is)—doesn't realize just how much adventure awaits her when she's given the opportunity of a lifetime: to spend the night in Amelia Earhart's childhood home with five other girls. Make that five strangers. But Millie's mom is a pilot like the famous Amelia, and Millie would love to have something to write to her about…if only she had her address.

Once at Amelia's house in Atchison, Kansas, Millie stumbles upon a display of Amelia's famous flight goggles. She can't believe her good luck, since they're about to be relocated to a fancy museum in Washington, DC. But her luck changes quickly when the goggles disappear, and Millie was the last to see them. Soon, fingers are pointing in all directions, and someone falls strangely ill. Suddenly, a fun night of scavenger hunts and sweets takes a nosedive and the girls aren't sure who to trust. With a blizzard raging outside and a house full of suspects, the girls have no choice but to band together. It's up to the Amelia Six to find the culprit and return the goggles to their rightful place. Or the next body to collapse could be one of theirs.
Praise For The Amelia Six…
Six girls spend the night at Amelia Earhart's childhood home and end up in the middle of a robbery. When 11-year-old Amelia, nicknamed Millie, gets to the home of the eponymous aviator, she stumbles upon an incredible artifact: the goggles Earhart wore on her solo flight across the Atlantic. Not long afterward, however, the goggles go missing. Millie's determination both to find them and to reach out to her absent pilot mother is endearing; even more so is the friendship that develops among Millie and the other five girls as they work to solve the mystery. Though shy, anxious Millie narrates, by the time she comes into her sarcastic own all six girls cohere into a charming ensemble cast. From Thea, the girl who builds and rides motorcycles with her auntie, to the generous turkey-truck driver who rescues Millie and her dad, the novel presents a suite of characters who, as Thea would say, "are like cake. [They] have layers." . . . Due honor is given to trailblazing Deaf pilot Nellie Zabel Willhite and black and Native pilot Bessie Coleman. An author's note adds fascinating context on Earhart's real story. A cozy whodunit that cheerfully affirms girls' and women's contributions to aerospace.
— Kirkus Reviews

When introverted Amelia "Millie" Ashford is selected to join five other inventive, science-minded girls in an overnight stay at the Amelia Earhart Birthplace Museum, she is thrilled to tour her namesake's museum, get up close with historical artifacts, and sleep in the actual family quarters. After a delicious dinner, cozy chats, and a frantic scavenger hunt, the electricity goes out and a pair of Amelia's favorite goggles go missing. The newly formed gang of six realizes that it's up to them to discover the culprit and retain a priceless piece of aviation history. Young readers will likely identify with one, if not more, of the intrepid girls, whether it's bookish, clever Millie or risk-taker Wren, and the (real) home-turned-museum is an inspired setting, full of dusty nooks and crannies, secret passageways, and endless hallways to explore. Gray weaves Amelia Earhart tidbits seamlessly into the larger plot and, for those who need to know more, includes additional information and further reading. A wonderful tribute to a woman who herself came to embody mystery.
— Booklist

It's hard to resist mysteries, even more so when they are real. Such is the case with the famous mystery surrounding aviatrix Amelia Earhart. Combine that with six middle grade school girls—strangers specially invited to spend a night at Earhart's historic Gothic Revival home in Atchison, Kansas during a Midwestern plains blizzard—and you have the makings of a closed-circle mystery. Each of the six girls arrive with a set of high expectations, plenty of attitude, plus the standard middle grade angst and insecurities. After their parents leave, the six girls are shepherded into the house to choose bedrooms for the night and to look around (this is where site managers and caretakers of historical sites will cringe). Comprising the strange mix of adults in the house is gruff housekeeper Edna, who doesn't seem to know anything about housekeeping, tattooed gourmet chef Perry, who does know how to cook, and frail-looking Birdy, who is a resident of the house. Excitement mounts until the girls are told they are here to find out what happened to Earhart's flying goggles, an important artifact and significant visitor draw. The story is characterized by clever plot twists, chapter cliff hangers, and camaraderie between the girls, who, mere strangers just a few hours ago, must now rely on one another and buoy each other up when courage flags. The last few chapters give details on the girls' role in apprehending the thief as well as what is in store for them next. A winner on all counts, this title features a vivid setting, interesting characters, great descriptions, vocabulary, and pacing, and realistic adult characters who are encouraging yet sufficiently relegated to the background to allow the girls to work out the mystery on their own. Comparisons with Nancy Drew and Sammy Keyes come to mind, but this satisfying mystery seems more like the works of Ellen Raskin, E.L. Konigsburg, and Gennifer Choldenko wherein readers have to really think and keep track of all the people, events, and clues before arriving at the solution. Leslie Greaves Radloff, Library Media Specialist, The Heights Community School, St. Paul (Minnesota) Public Schools

Highly Recommended
— School Library Connection

This lighthearted mystery using a classic whodunit setup shines light on women in aviation. When six science-minded girls are invited to a slumber party and scavenger hunt at Amelia Earhart's Birthplace Museum, the disappearance of the icon's flight goggles transforms them into detectives as a raging winter storm shuts down all travel and the phone lines. Gray (Vilonia Beebe Takes Charge) effectively portrays the transformation of shy 11-year-old narrator Amelia ("Millie"), a Rubik's Cube whiz and collector of vintage Nancy Drew novels, who befriends the other girls and assumes a leadership role. Alongside details about Earhart, the narrative features female flight pioneers such as African-American and Native American pilot Bessie Colman, and deaf pilot Nelle Zabel Willhite, who "could sense engine trouble by a change in vibrations." Millie takes the lead in this romp; the supporting five girls can feel indistinct, leaving adult characters more roundly sketched. A thread about Millie's absent pilot mom proves poignant, and a thorough reading list and author's note offer resources for readers eager to discover more. Ages 8–12. Agent: Caryn Wiseman, Andrea Brown Literary. (June)
— Publishers Weekly

Eleven-year-old Millie is traveling to Atchison, KS, to spend the night in the historic home of acclaimed aviator Amelia Earhart. Upon her arrival, she meets five other girls who will also stay in the house overnight. However, by nightfall, Amelia's famed goggles go missing. Millie teams up with her new friends to solve the mystery of their disappearance. The "Amelia Six" must investigate every clue, from a suspicious herbal tea to a Christmas tree stored in a closet. This fast-paced whodunit reaches a satisfying and surprising finale, with each heroine's unique set of skills on full display. This novel shines with its brilliant cast of diverse, smart, and spunky characters. Gray also makes full use of the mystery genre to illustrate problem-solving, critical thinking, and deduction and reasoning skills. The ­pacing of the plot and short chapters make this a strong choice for a classroom read-aloud, or a bedtime story for families. VERDICT This is a delightful and clever middle grade novel that will appeal to readers of historical fiction and mystery. Fans of Ben Guterson's "Winterhouse" series and Kristin O'Donnell Tubb's "Story Collector" will find a kindred spirit in ­Millie.
— School Library Journal

In The Amelia Six, Kristin L. Gray's entertaining middle-grade novel, a group of STEM-loving girls earn a trip to the Amelia Earhart Birthplace Museum. What's in store for them recalls what happens to the five young candy freaks in Roald Dahl's Charlie and the Chocolate Factory: the protagonists are steadily assailed with rapturous wonders and nerve-jangling surprises.

The Amelia Six is narrated by Amelia "Millie" Ashford of Kansas City, one of the six middle-school girls selected for an overnight at Amelia Earhart's childhood home in Atchison, Kansas. The insecure Millie, whose "friends are either online or characters in books," has a challenge beyond the promised Earhart-themed scavenger hunt: fitting in.

The showpiece of the Earhart museum is the goggles that the aviator wore when she made her solo flight across the Atlantic Ocean in 1932; valued at $120,000, the specs are ultimately destined for the Smithsonian Air and Space Museum. When the goggles disappear from their display case, Millie--who had been caught ogling them by the housekeeper--becomes a suspect.

While The Amelia Six can read like a plug for STEM, Gray (Vilonia Beebe Takes Charge) never loses sight of the fact that her book is primarily a caper. Amelia delivers a mystery that will please readers who, like Millie, are into "vintage Nancy Drews" and their ilk. The haunted house-like museum has it all: a secret passageway, ghostly murmurs, an old painting of a sourpuss--all under cover of the requisite dark and stormy night. From this Millie emerges with something even more valuable than Earhart's goggles or Willie Wonka's chocolate factory: a sense of belonging. --Nell Beram, freelance writer and YA author

Discover: In this sure-to-please middle-grade novel, a Nancy Drew-style mystery confronts six girls who win an overnight at the Amelia Earhart Birthplace Museum in Atchison, Kansas.
— Shelf Awareness For Readers
Simon & Schuster/Paula Wiseman Books, 9781534418851, 272pp.
Publication Date: June 30, 2020
About the Author
Kristin L. Gray is the author of Vilonia Beebe Takes Charge, which Publishers Weekly called a "sensitive and uplifting coming-of-age journey." Booklist called her latest, The Amelia Six, "a wonderful tribute to [Amelia Earhart] who herself came to embody mystery." Kristin is also the author of two picture books: Koala Is Not a Bear (illustrated by Rachel McAlister) and Rover Throws a Party (illustrated by Scott Magoon). She lives in northwest Arkansas. Visit her online at KristinLGray.com.