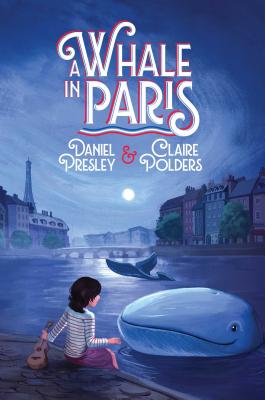 A Whale in Paris (Hardcover)
Atheneum Books for Young Readers, 9781534419155, 256pp.
Publication Date: May 22, 2018
* Individual store prices may vary.
Description
A hopeful and heroic girl befriends a small, lost whale during World War II and together they embark on a journey to liberate France and find their families in this charming debut novel. Ever since the Germans became the unwelcome "guests" of Paris in the early days of World War II, Papa and Chantal have gone out in the evenings to fish in the Seine. Tonight Chantal is hoping for a salmon, but instead she spies something much more special: a whale Though small (for a whale) and lost, he seems friendly. Chantal soon opens her heart to the loveable creature and names him Franklin, after the American president who must surely be sending troops to rescue her country. Yet Franklin is in danger: The Parisians are starving and would love to eat him, and the Nazis want to capture him as a gift to Hitler. In a desperate bid to liberate themselves and their city, Chantal and Franklin embark on a dangerous voyage. But can one small girl manage to return a whale to the ocean and reunite him with his parents? And will she ever see her own family again?
About the Author
Daniel Presley is an American who came to Paris in search of music, but found love instead when he met Claire, a philosophy student. Claire Polders was born in the Netherlands and came to Paris in search of the meaning of life, but found Daniel instead. They fell in love, got married, and wrote A Whale in Paris. They have also written films and other novels. On sunny days, they enjoy taking long walks along the Seine, eating salmon quiche, and making up stories.