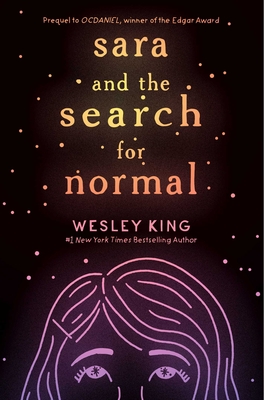 Sara and the Search for Normal
Hardcover

* Individual store prices may vary.
Other Editions of This Title:
Paperback (5/4/2021)
Description
"Readers will appreciate [Sara] as good literary company even as they develop sympathy for her struggles." —BCCB
"It's the vivid, insightful depiction of Sara's internal struggles that readers will remember." —Booklist
"A must-buy." —School Library Journal (starred review)

In this prequel to the Edgar Award–winning OCDaniel, fan-favorite Sara quests for "normal" and finds something even better along the way.

Sara's Rules to be Normal

1. Stop taking your pills
19. Make a friend
137. Don't put mayonnaise on peanut butter and jelly sandwiches.

Sara wants one thing: to be normal. What she has instead are multiple diagnoses from Dr. Ring. Sara's constant battle with False Alarm—what she calls panic attacks—and other episodes cause her to isolate herself. She rarely speaks, especially not at school, and so she doesn't have any friends. But when she starts group therapy she meets someone new. Talkative and outgoing Erin doesn't believe in "normal," and Sara finds herself in unfamiliar territory: at the movies, at a birthday party, and with someone to tell about her crush—in short, with a friend. But there's more to Erin than her cheerful exterior, and Sara begins to wonder if helping Erin will mean sacrificing their friendship.
Praise For Sara and the Search for Normal…
Diagnosed at age six with bipolar disorder, general anxiety disorder, mild schizophrenia, and depression, Sara attends public school and does well academically. Now in seventh grade, unable to attend regular classes because of frequent, disruptive panic attacks, she's known to other students as Psycho Sara, and she yearns to be "normal." At group sessions led by her psychiatrist, she meets outgoing Erin, who befriends her and urges her to adopt a more positive outlook, to see herself as a "Star Child," and to celebrate the differences that make her special. Becoming an agent of positive change for others, Sara faces painful losses, but she makes impressive gains as well. In this prequel to King's OCDaniel (2016), readers will meet Sara in the period before her story intertwines with Daniel's. The first-person narrative reveals her concerns and shifts in confidence as this vulnerable, truthful character meets challenges and becomes increasingly determined and brave. Adults and young people alike are portrayed as flawed here, but it's the vivid, insightful depiction of Sara's internal struggles that readers will remember.
— Booklist

How can Sara even try to make friends when she knows in her heart that she's really what her jeering classmates call her? Sara, who was diagnosed at 6 with bipolar and anxiety disorders, mild schizophrenia, and depression, lives a mostly solitary life. Though she attends a public school, she's not mainstreamed. The school believes Sara's too intellectually gifted to be in a regular special education classroom, so she's been learning solo. Wracked with self-loathing, she's obsessed with being "normal." When her therapist (also her psychiatrist) encourages Sara to join a therapy group for teens with mental illness, Sara makes her first friend ever. Erin has trichotillomania, an anxiety disorder in which she pulls out her own eyebrows and eyelashes, and (unlike nearly silent Sara) she's gregarious and affectionate. Though Erin and Sara adore one another, they could hardly be more different. Sara is desperate for a cure while Erin insists she has no desire for normalcy. Sara constantly uses slurs to describe herself while Erin's convinced that they're special kids: Star Children. Nearly all the characters are white except for one other kid in the group. With multiple encouraging adult mentors who say mostly excellent things about mental health, the educational message is unsubtle, but it's delivered in a thoroughly compelling vehicle with a tidy but gripping subplot. This prequel to OCDaniel (2016) works just as well as a stand-alone. Readers will take heart to see this well-realized character learning self-esteem and life skills. (Fiction. 10-13)
— Kirkus Reviews

*KING, Wesley. Sara and the Search for Normal. 272p. S. & S/Paula Wiseman Bks. Jun. 2020. Tr $17.99. ISBN 9781534421134.

Gr 4-8–King has done it again with this in-depth look into life-altering mental health issues. Sara, who was a supporting character in King's book OCDaniel, gets to tell her own story. Sara is 12 years old and has been diagnosed with bipolar disorder, generalized anxiety disorder, and schizophrenia. She also is selectively mute; she only speaks to four people in her life when the story begins. Sara's goal in life is to become normal, and she has 154 rules for achieving it. Rule number one is, "Stop taking your pills." We follow Sara as she goes to therapy, faces horrible bullying, finally makes a friend, and faces both setbacks and success. Mental health stigma is still so strong and easy to internalize. The stigma against schizophrenia is especially strong, and this book portrays Sara's symptoms from her own point of view. They are frightening to her, but her symptoms don't make her dangerous to anyone else. There is a teachable moment about the use of the "R word," and child abuse and alcoholism are also discussed. The story is not didactic in addressing these issues, so conversations with students reading the book may be necessary. The one aspect of the book that pushes suspension of disbelief is that it is very rare for someone of Sara's age to be diagnosed with bipolar disorder or schizophrenia; the narrative implies that Sara was diagnosed quickly at the age of five or six. VERDICT Readers of all ages will learn from Sara's journey through shame to a point of growth and acceptance. A must-buy for elementary and middle school libraries.–Jeri Murphy, C.F. Simmons Middle School, Aurora, IL
— School Library Journal STARRED REVIEW
Simon & Schuster/Paula Wiseman Books, 9781534421134, 272pp.
Publication Date: June 2, 2020
About the Author
Wesley King is the author of over a dozen novels for young readers. His debut, OCDaniel, is an Edgar Award winner, a Canada Silver Birch Award winner, a Bank Street Best Book of the Year, and received a starred review from Booklist. The companion novel, Sara and the Search for Normal, received a starred review from School Library Journal and was the recipient of the Violet Downey Book Award and the Ruth and Sylvia Schwartz Children's Book Award. King has also written TheIncredible Space Raiders from Space!, A World Below, and Kobe Bryant's New York Times bestselling Wizenard series. He lives in Newfoundland.