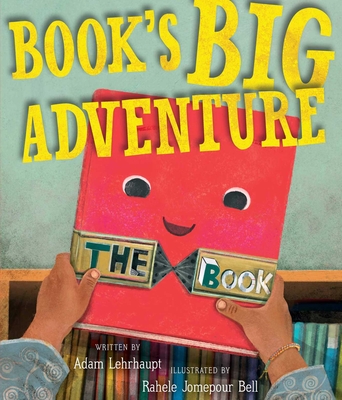 Book's Big Adventure
Hardcover

* Individual store prices may vary.
Description
Find out what happens to a beloved book sent to a new home in this sweet and hopeful picture book from award-winning author of Warning: Do Not Open This Book!, Adam Lehrhaupt.

When a little girl outgrows her favorite book and it is donated to the library, Book worries it will never be read again. It sits alone and neglected on a library shelf, and one unlucky day, Book falls from its perch and lands behind the shelf out of sight. How will anyone find it now?

Young readers will delight in following Book's journey and the chance encounter that saves it from being forgotten.
Praise For Book's Big Adventure…
When Book is shiny and new, it claims a prominent space on the public library's display table, and everyone wants to check it out. But after "many adventures," Book's previously glowing red cover shows wear and tear, and the volume is moved to "a lower, less friendly shelf" where it watches other books that move through circulation—those with "knights or princesses, fancy cars, or fast trains." There's a happy ending in store for Book: it's donated to a giveaway and quickly picked up by a brown-skinned child, who cherishes it. But so many pages are dedicated to Book's decline and pathos—"Book was lonely. Forgotten. It wondered if its travels were over," writes Lehrhaupt (Sloth Went)—that readers may find the story arc more about pity than redemption. But Bell's (Baby's Opposites) softly lit and textured digital illustrations vividly evoke both a strong sense of place and the pull of the printed page throughout: kids are seen reading in bed, in a tent, even at a basketball game. And she makes the library where Book gets its start so real and welcoming that readers will want to head there themselves. Ages 4–8. Author's agent: Alexandra Penfold, Upstart Crow. Illustrator's agent: Christy Ewers, the CAT Agency. (Feb.)
— Publishers Weekly
Simon & Schuster/Paula Wiseman Books, 9781534421837, 32pp.
Publication Date: February 9, 2021
About the Author
Adam Lehrhaupt's first picture book, Warning: Do Not Open This Book!, received the E.B. White Read Aloud Honor Award, was an ALA Notable Book, and a HuffPost Notable Book. School Library Journal called it, "More fun than a barrel of monkeys." He is also the author of Please, Open This Book!, which was named a Wanda Gag Comstock Read Aloud Honor Book, and Idea Jar. Adam has traveled to six continents, performed on Broadway, and lived on a communal farm. He currently lives in the suburbs of Philadelphia, Pennsylvania, with his wife, sons, and two bizarre dogs. Visit him online at AdamLehrhaupt.com.

Rahele Jomepour Bell is an illustrator of several picture books, including Our Favorite Day of the Year by A. E. Ali on the Salaam Reads list. Rahele came to the United States from Iran in 2011 and pursued her dream of studying art at Iowa State University where she received her MFA in integrated visual arts. She believes all people share a common home in planet Earth, but may differ in their skin color, way of life, and their thinking. She loves these differences and believes this is what makes the world a beautiful place to live. Visit her at RaheleStudio.com.