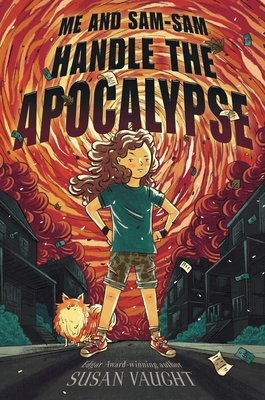 Me and Sam-Sam Handle the Apocalypse (Hardcover)
Simon & Schuster/Paula Wiseman Books, 9781534425019, 320pp.
Publication Date: May 14, 2019
Other Editions of This Title:
Paperback (5/12/2020)
* Individual store prices may vary.
Description
"Edgar-winning Vaught, a neuropsychologist, has both personal and professional experience to draw on in crafting a narrator who is admirably smart and resilient despite an 'itchy' brain and a compulsion to count things." —Booklist (starred review)

"Deeply smart and considerate." —BCCB

"An absorbing mystery." —Kirkus Reviews

"A strong addition to help diversify realistic fiction collections to include neuroatypical characters and heroines." —School Library Journal

Jesse is on the case when money goes missing from the library and her dad is looking like the #1 suspect in Edgar Award­–winning author Susan Vaught's latest middle grade mystery.

I could see the big inside of my Sam-Sam. I had been training him for 252 days with mini tennis balls and pieces of bacon, just to prove to Dad and Mom and Aunt Gus and the whole world that a tiny, fluffy dog could do big things if he wanted to. I think my little dog always knew he could be a hero.

I just wonder if he knew about me.

When the cops show up at Jesse's house and arrest her dad, she figures out in a hurry that he's the #1 suspect in the missing library fund money case. With the help of her (first and only) friend Springer, she rounds up suspects (leading to a nasty confrontation with three notorious school bullies) and asks a lot of questions. But she can't shake the feeling that she isn't exactly cut out for being a crime-solving hero. Jesse has a neuro-processing disorder, which means that she's "on the spectrum or whatever." As she explains it, "I get stuck on lots of stuff, like words and phrases and numbers and smells and pictures and song lines and what time stuff is supposed to happen." But when a tornado strikes her small town, Jesse is given the opportunity to show what she's really made of—and help her dad.

Told with the true-as-life voice Susan Vaught is known for, this mystery will have you rooting for Jesse and her trusty Pomeranian, Sam-Sam.
About the Author
Susan Vaught is the author of Edgar Award­–winning novel Footer Davis Probably Is Crazy. It was a Junior Library Guild Selection, and The Horn Book called it "compelling, offbeat, and fearless." Things Too Huge to Fix by Saying Sorry received three starred reviews, and Super Max and the Mystery of Thornwood's Revenge was called "an excellent addition to middle grade shelves" by School Library Journal. She works as a neuropsychologist at a state psychiatric facility, specializing in helping people with severe and persistent mental illness, intellectual disability, and traumatic brain injury. She lives on a farm with her wife and son in rural western Kentucky.
Praise For Me and Sam-Sam Handle the Apocalypse…
Jesse Broadview is trying to survive junior high just like everyone else—with the addition of doing it while having autism spectrum disorder—but it gets complicated when her English teacher father is arrested for stealing money from the school. Bullied at school, Jesse spends her time outside it training her Pomeranian, Sam-Sam, to be a bomb-sniffing dog just like her heroic, deployed mom's. Even though he's afraid of dogs, new kid Springer Regal is also a bit offbeat, and he and Jesse find similarities and strengths in each other. They decide they will have to investigate the theft in order to prove Jesse's dad's innocence, as the police are unlikely to take his claims seriously. Jesse and Springer narrow their list of suspects, but when a tornado rips through their small Kentucky town, further opportunities to be heroic abound. Moving back and forth in time, Vaught writes in Jesse's wry, distinct voice, allowing her to explain some of her sensitivities in a frank, matter-of-fact way: "new clothes don't have to be perfect. Just not itchy." Readers also see how even well-meaning neurotypicals can inadvertently echo the distancing gestures Jesse endures—and has to some extent internalized—from the actively cruel bullies. But over and above all this, Jesse is a vibrant, strong, smart, funny character who happens to have ASD. Jesse, her family, and Springer present white; ethnic diversity is indicated primarily through naming convention. An absorbing mystery about friendship, growth, and heroics. (author's note) (Mystery. 8-12)
— Kirkus Reviews

In a memorable week for Jesse, a devastating tornado comes to her small Kentucky town, she's faced with the traumatic sight of her dad in handcuffs after a large amount of money disappears from his desk at school, and confrontations with a trio of relentless bullies escalate. On top of that, she gains a solid new friend, a mystery to solve (who really took that money?), proof that her Pomeranian Sam-Sam has important hidden talents, and plenty of evidence that being on the spectrum doesn't make her dumb, disabled, broken, or incapable of rising to the occasion. Led by her mom, who is deployed in Iraq but available for Skype conversations, and Springer, a big, quiet new kid who's quick on the uptake when it comes to meltdowns, good at respecting personal space, and not afraid to help with an investigation that ends up implicating school faculty and administration, Jesse gets a sensitive but not (except sometimes for her dad) overprotective support group. Her tale, told partly in flashbacks, ends in a flurry of high notes (with Sam-Sam the hero of the day). Edgar-winning Vaught, a neuropsychologist, has both personal and professional experience to draw on in crafting a narrator who is admirably smart and resilient despite an "itchy" brain and a compulsion to count things. — John Peters
— Booklist *STARRED REVIEW*

Middle-schooler Jesse is neurodivergent and bullied at school; when she befriends new kid Springer, who also identifies as having autism spectrum disorder, she at least no longer has to deal with the bullying alone. When Jesse's dad, a teacher at the town high school, is arrested for allegedly stealing from the library fund, she and Springer form the "Observant But Weird In a Good Way Detective Agency" to investigate. Their explorations are a useful distraction from how much Jesse misses her mother, who is deployed in Iraq, and how traumatic it was to see her remaining parent handcuffed and dragged away. As Jesse, Springer, and Jesse's Pomeranian, Sam-Sam, investigate the missing money, Jesse's affinity for counting and attention to sensory details make this a charming account of friendship developing around the mutual consideration of needs. Soon enough, however, as a tornado destroys much of the town, Jesse is compelled to halt her rather impressive investigation and use Sam-Sam to help find survivors. Springer's compassionate but assured ways of dealing with his new friend, her dog, and everyone around him coupled with Jesse's goal-oriented focus casts even their bullies in a new light; the book makes the point that the special treatment of special needs kids can sometimes seem unfair to other youngsters with a lot on their own plates. This is a deeply smart and considerate little mystery, and while Jesse calls it on the solution, she still has to deal with some more personal things after this case is settled. An author's note about neurodivergence adds context.
— BCCB

Gr 4-6–Words that describe Jesse Broadview include: dog lover, "Messy Jesse," heroine, and "on the spectrum." Her quirkiness can lead to extreme behavior from burning tank tops that are too itchy, building a secret hideout in the forest, and throwing water bottles at bullies. Jesse's life is clearly anything but typical, but when a tornado strikes her small Kentucky town and her father is accused of stealing money from the school library, Jesse faces her own apocalypse. Jesse will pave her own path as she dabbles in a first true friendship, navigates the mystery surrounding her father, and stands her ground against a fierce toronado. Vaught invites readers into Jesse's world, which is simultaneously intriguing and jumbled. The novel bounces between the missing money mystery and the action building toward the tornado, which enhances the plot's energy, but can initially cause confusion for readers. Vaught's detailed accounts of events through Jesse's perspective builds not only an understanding, but also an experience for the reader, and provides intimate insight on her neuroatypicality. VERDICT Highly recommended for school libraries as a strong addition to help diversify realistic fiction collections to include neuroatypical characters and heroines.–Mary-Brook J. Townsend, The McGillis School, Salt Lake City
— School Library Journal

In this heartfelt middle grade mystery, an autistic girl becomes an amateur detective after money is stolen from her English teacher father's desk at school and he is blamed for the theft. With the aid of her friend, new kid Springer Regal, and her faithful Pomeranian, Sam-Sam, Jesse Broadview sets out to clear her father by finding the true culprit, along the way repeatedly encountering "Jerkface and his pet cockroaches," a trio of bullies. While the investigation plays out over the course of the week preceding the narrative, a storyline set in the present focuses on the immediate aftermath of a tornado that hit their small Kentucky town, where Jesse and Sam-Sam prove useful in aiding their neighbors. Along the way, Jesse narrates her experience "on the spectrum," which manifests for her as touch sensitivity ("my new clothes don't have to be perfect. Just not itchy"), an occupation with numbers, and the occasional meltdown. Vaught (Super Max and the Mystery of Thornwood's Revenge) brings training as a neuropsychologist to this sensitively told tale, and she offers a nuanced, normalizing portrayal of Jesse's autism spectrum disorder alongside her other qualities. Between the charming protagonist, the engaging mystery, and a compelling emotional arc, the result is wholly satisfying.
— Publishers Weekly

Me and Sam-Sam Handle the Apocalypse

2019. 309 pp. $17.99 hc. Paula Wiseman Books (Simon & Schuster). 9781534441866. Grades 4-8

This book is a realistic read about a smart and strong junior high-aged girl with autism. Thematically encompassing the struggles of fitting in, in addition to the dynamics of family, friendship, and heroes, this is a story kids will enjoy, understand, and one with which they can empathize. Jesse's mother is deployed in Iraq, so she lives with her father and great Aunt Gus. As a girl on the spectrum, Jesse has always had a hard time making friends and being accepted as part of a group. She often has to resort to some of her calming techniques in order to survive. There is a group of kids who taunt and bully her constantly. She tries hard to exist with them around, but they make it very, very difficult. She eventually befriends Springer, another student tormented by the same bullies and their relationship grows and strengthens as they form an alliance and learn to support each other. When Jesse's dad, a well-liked high school English teacher, is charged with stealing after some of the money in his library fund comes up missing, Jesse and Springer set their sights on discovering who really took the money. Both end up in a lot of trouble, but for good reasons. After a lot of ups, downs, threats, fights, and one destructive tornado which causes Jesse to understand her own worth more clearly, Jesse and Springer uncover the real thief. Throughout the entire story, Jesse is concerned for and comforted by her dog, Sam-Sam, a little Pomeranian she is trying to train. This story is well written, exciting, and, at times, very intense. I think middle school kids will really like it. It occasionally felt like the adults in charge at the school allowed the bullies to carry on too long and didn't really deal with them until the end, but this fact does not detract from the storyline. The author has included a lot of funny bits in the story that will make readers chuckle. At the same time, Vaught has taken on a serious subject and handled it very well. The book is believable, fast-paced, and definitely worth reading. Melinda W. Miller, PK-12 Library Media Specialist, Colton-Pierrepont Central School, Colton, New York

Highly Recommended
— School Library Connection