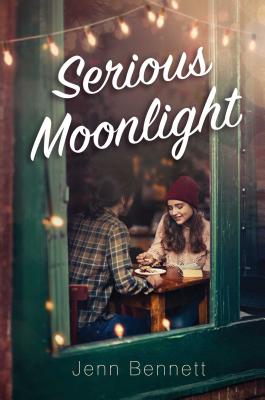 Serious Moonlight
Hardcover

* Individual store prices may vary.
Other Editions of This Title:
Digital Audiobook (6/24/2019)
Paperback (1/5/2021)
MP3 CD (6/25/2019)
Compact Disc (6/25/2019)
Description
"An atmospheric, multilayered, sex-positive romance." —Kirkus Reviews (starred review)

After an awkward first encounter, Birdie and Daniel are forced to work together in a Seattle hotel where a famous author leads a mysterious and secluded life in this romantic contemporary novel from the author of Alex, Approximately.

Mystery-book aficionado Birdie Lindberg has an overactive imagination. Raised in isolation and homeschooled by strict grandparents, she's cultivated a whimsical fantasy life in which she plays the heroic detective and every stranger is a suspect. But her solitary world expands when she takes a job the summer before college, working the graveyard shift at a historic Seattle hotel.

In her new job, Birdie hopes to blossom from introverted dreamer to brave pioneer, and gregarious Daniel Aoki volunteers to be her guide. The hotel's charismatic young van driver shares the same nocturnal shift and patronizes the waterfront Moonlight Diner where Birdie waits for the early morning ferry after work. Daniel also shares her appetite for intrigue, and he's stumbled upon a real-life mystery: a famous reclusive writer—never before seen in public—might be secretly meeting someone at the hotel.

To uncover the writer's puzzling identity, Birdie must come out of her shell…discovering that the most confounding mystery of all may be her growing feelings for the elusive riddle that is Daniel.
Praise For Serious Moonlight…
"An atmospheric, multilayered, sex-positive romance from the talented Bennett." -- Kirkus, Starred Review

"Romance fans won't be disappointed." -- BCCB

"Compulsively readable and enormously fun, this is a first purchase for YA collections." -- SLJ

"Bennett creates a cast of vibrant supporting characters and offers vivid descriptions of Seattle's landmarks along with nonstop suspense." -- Publishers Weekly

Birdie Lindberg, a lover of detective novels, teams up with her one-time hookup Daniel Aoki to solve a mystery at the historic Seattle hotel where they work. After years of being home-schooled by her strict, recently deceased grandmother, orphaned 18-year-old Birdie's circle of friends is limited to three adults: her widowed grandpa, Hugo (with whom she lives on Bainbridge Island); her free-spirited-artist honorary aunt, Mona Rivera; and Ms. Patty, co-owner of her favorite refuge in the city, the Moonlight Diner. So when Birdie, who's white and has undiagnosed narcolepsy, starts a night shift at a historic hotel, she's gobsmacked to bump into co-worker Daniel, a handsome half-Japanese/half-white boy with whom she shared a romantic-turned-awkward night before fleeing the scene. Remembering Birdie's love of mysteries, Daniel—who's 19 and a magic aficionado—suggests they investigate whether a regular guest is actually Raymond Darke, the pen name of a reclusive bestselling local mystery author. Bennett (Starry Eyes, 2018, etc.) excels at nuanced characterization, portraying deeply felt first love, and offering readers well-researched diversity (Mona is Puerto Rican, Daniel's deaf in one ear and has grandparents who survived the Japanese-American internment). The mystery theme is compelling (each chapter opens with a quote from a famous sleuth), but it's the way Birdie and Daniel navigate an emotional and physical relationship—despite their sensitively handled issues—that's truly memorable. An atmospheric, multilayered, sex-positive romance from the talented Bennett. (Fiction. 14-18)
— Kirkus Reviews *STARRED*
Simon & Schuster Books for Young Readers, 9781534425149, 432pp.
Publication Date: April 16, 2019
About the Author
Jenn Bennett is an award-winning author of young adult books, including Alex, Approximately; Starry Eyes; The Lady Rogue; and Always Jane. She also writes historical romance and fantasy for adults. Her books have earned multiple starred reviews, won the Romance Writers of America's RITA® Award, and been included on Publishers Weekly's Best Books annual list. She currently lives near Atlanta with one husband and two dogs.