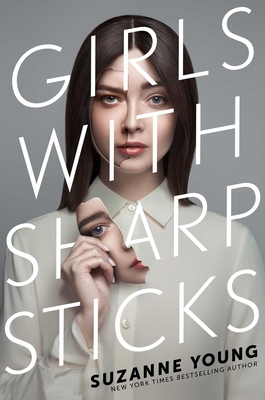 Girls with Sharp Sticks
Hardcover

* Individual store prices may vary.
Other Editions of This Title:
Digital Audiobook (3/18/2019)
Paperback (2/18/2020)
Compact Disc (3/19/2019)
Description
From New York Times bestselling author Suzanne Young comes the start of a thrilling, subversive new series about a girls-only boarding school with a terrifying secret and the friends who will stop at nothing to protect each other.

Some of the prettiest flowers have the sharpest thorns.

The Girls of Innovations Academy are beautiful and well-behaved—it says so on their report cards. Under the watchful gaze of their Guardian, they receive a well-rounded education that promises to make them better. Obedient girls, free from arrogance or defiance. Free from troublesome opinions or individual interests.

But the girls' carefully controlled existence may not be quite as it appears. As Mena and her friends uncover the dark secrets of what's actually happening there—and who they really are—the girls of Innovations Academy will learn to fight back.

Bringing the trademark plot twists and high-octane drama that made The Program a bestselling and award-winning series, Suzanne Young launches a new series that confronts some of today's most pressing ethical questions.
Praise For Girls with Sharp Sticks…
"This book has enough plot twists to give a reader whiplash."
— Cosmopolitan, "Books You Won't Be Able To Put Down in 2019"

"Readers will be revved up for the inevitable uprising . . . a suspenseful and timely read. Readers will look forward to the sequel."
— Kirkus Reviews

Gr 9 Up–"The only worthy girls are well-behaved girls." So teaches the staff at Innovations Academy, proud of producing the best girls, who are "beautiful, quiet, and pure." Mena trusts the men running the academy to know what's best. Yet when one of her friends disappears, Mena begins to question whether these men are acting out of protection or some darker purpose. Mena's journey out of complacent ignorance is harrowing and exhilarating. Young imbues her narrator with a keen intelligence that has been stunted with drugs and lies, and as Mena rids herself of those impediments, she unravels mysteries and learns how to fight back. This novel, the first in a planned series, is like The Stepford Wives refashioned for teens coming of age in our volatile modern era. The curriculum of the Innovations Academy is basically the ideology of rape culture made explicit: girls are expected to please and acquiesce to men, men cannot be expected to control themselves, and girls who have not remained pure are considered "devalued." Mena's initial parroting of these ideas, slowly giving way to questioning and then outrage, creates a suspenseful and claustrophobic atmosphere that eventually threatens to boil over with vindictive violence. The real fodder for ethical debate arises as Mena and her friends decide how to react to the truths they've uncovered. Readers will be inspired by Mena's awakening, and particularly by the unbreakable and loving sisterhood she shares with her classmates. VERDICT Highly recommended.–Elizabeth Lovsin, Deerfield Public Library, IL
— School Library Journal

"The story presents a clear, overt examination of gender and power, and it's a carefully constructed one, highlighting the complexities of a patriarchal system that is so ingrained and so absolute that even the most well-intentioned men and women unwittingly uphold it. . . . A timely, perceptive read, this will leave readers, especially those grappling with the implications of the #metoo era, anxious for the sequel."
— BCCB
Simon & Schuster Books for Young Readers, 9781534426139, 400pp.
Publication Date: March 19, 2019
About the Author
Suzanne Young is the New York Times bestselling author of The Program series. Originally from Utica, New York, Suzanne moved to Arizona to pursue her dream of not freezing to death. She is a novelist and an English teacher, but not always in that order. Suzanne is also the author of Girls with Sharp Sticks, All in Pieces, Hotel for the Lost, and several other novels for teens. Visit her online at AuthorSuzanneYoung.com or follow her on Instagram at @AuthorSuzanneYoung.