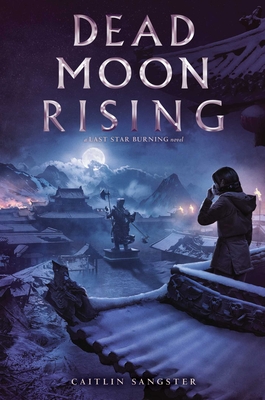 Dead Moon Rising (Last Star Burning) (Hardcover)
Simon Pulse, 9781534427846, 512pp.
Publication Date: November 12, 2019
* Individual store prices may vary.
Description
Sev must decode her mother's last words to find the cure to Sleeping Sickness before Dr. Yang can use it to blackmail the world into submitting to his rule in this thrilling finale to the Last Star Burning trilogy.

Sev finally knows where to find the cure to Sleeping Sickness. The only problem is that she's trapped in an endless sleep herself after refusing to give up her secrets to Dr. Yang.

Howl is determined to save Sev, but he has no idea where Dr. Yang is keeping her. When he runs into a group fleeing Port North on a mission of their own, he has no choice but to follow and hope they can get him back to the mountains before it's too late.

June, infected with SS by the very people she calls family, has now become the one thing she most fears. She's supposed to be Port North's insurance that Howl and Sev return with the cure, but June has other ideas.

And Tai-ge, reunited with the Reds, is airlifted to the City now overrun by SS. He's charged with getting the factories running again by any means necessary—no matter how many Sephs stand in his way.

There's only one thing strong enough to unite people who have been fighting for years, and Sev holds the key to it inside her mind. If she can't reach the cure in time, there may not be anyone left to save.
About the Author
Caitlin Sangster grew up in Northern California, moved to XinJiang when she was eighteen, and has been fascinated with how much she doesn't know about the world ever since. She graduated from Brigham Young University with a degree in Asian studies and is the person you avoid at parties because she will probably start talking about Shang dynasty oracle bones. Caitlin lives with her husband and four children in Utah. For more about Caitlin visit her at CaitlinSangster.com, on Twitter @CaitSangster, or Facebook.com/CaitlinSangsterAuthor.
Praise For Dead Moon Rising (Last Star Burning)…
Caitlin Sangster's Last Star Burning opens with moves in an intricate strategy game, and the entire novel follows that initial scene. Set in a gorgeous, Asian-themed post-apocalyptic world, Sangster presents the reader with a fully-formed society, as fully inhabited by lies and deception, as human beings. With propaganda, the illusion of the greater good, and the stigma of illness heavily coloring the dark themes of this book, young readers will be forced to examine not only Sevvy's actions and motivations, but also their own. A rich and timely tale that twists and turns so quickly, you might get whiplash.
— Aprilynne Pike, #1 New York Times Bestselling Author

"A richly imagined dystopia."
— BCCB, starred review on LAST STAR BURNING

Brimming with rich detail in an Asian-inflected alternative world that's lightly touched with Maoist terminology and concepts and helmed by achingly real characters, Sevvy's story is thrilling to get lost in. By the end, readers will be clamoring for more. Incredibly immersive and tightly plotted.
— Kirkus on LAST STAR BURNING

"Sangster does a masterful job of world-building, and takes the time to develop characters and a plot that twists in on itself multiple times . . . Give to fans of Leigh Bardugo's 'Six of Crows' series and Sabaa Tahir's 'Ember in the Ashes' trilogy."
— School Library Journal on LAST STAR BURNING

"A gripping tale of trust, class struggle, and betrayal."
— Booklist on LAST STAR BURNING

"Sangster's vibrant debut is set in a world where class and status define its citizens; some genuinely surprising twists highlight Sev's struggle to accept a reality vastly different from what she has known. Her candid voice propels the tense narrative to a conclusion that leaves no question where Sev's convictions and loyalties lie and sets up the next chapter in her journey."
— Publisher's Weekly on LAST STAR BURNING

"Young adult lovers of dystopian dramas will enjoy this new twist on the 'old' standards."
— VOYA on LAST STAR BURNING

Detail-oriented Sangster is a master of creativity when it comes to setting and action, and the various characters' ambivalence about trust and hope feels authentic. Moments of humor and warmth add dimension, and dedicated readers will appreciate many, many twists and turns. An author's note indicates inspiration for parts of the book came from historical China. Try this sequel to Last Star Burning (2017) with fans of Julie Dao's Rise of the Empress series or Livia Blackburne's
Rosemarked (2017).
— Booklist Online on SHATTER THE SUNS