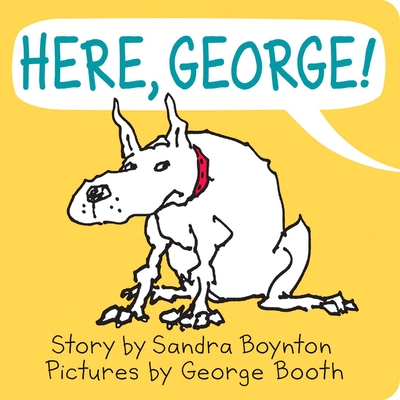 Here, George!
Board book

* Individual store prices may vary.
Description
Beloved bestselling author Sandra Boynton collaborates with iconic New Yorker cartoonist George Booth to create this hilarious book about George, a lovable dog with a big secret.

George is a big dog who likes to just sit around. But there's another side to George that even his family doesn't know about. With Sandra Boynton's whimsical storytelling, and celebrated cartoonist George Booth's one-of-a-kind illustrations, Here, George! is a sweet, quirky, and charming board book that's a must-have for every collection!

Yes, this is George.
He likes to sit.
He likes to sleep.
He loves his family.
Praise For Here, George!…
* "Renowned cartoonists Boynton and Booth team up for a delightful day in the life of canine George. This white dog lives a sedentary life and prefers to sit and sport a sour grin as members of his family beckon him one by one. With the exception of who's calling, the first several pages are identical: 'HERE, GEORGE!' says a voice. But 'George does not move.' However, after they leave the pooch on his own, he hears some music and gets up to dance Snoopy-style through a full double-page spread. When his humans return, they find George in the exact same position as they left him—but with some fond memories that summon a wag from 'his happy tail.' Boynton closes the work with the clever aside: 'And he is wild about dancing. (Which no one knows but you).' Booth's iconic cartoon dog, made famous in the pages of the New Yorker, is constructed with a fluid and endearingly shaky line. He masterfully registers a change in mood with a simple upward flick of a cartoon grin or a sideways glance. Boynton's text is a simple and playful complement, rendered a stand-alone visual element by the decidedly Booth-ian faux handwritten typeface. It's a one-joke book, but with such master humorists at work, who needs anything more?"
— Kirkus, starred review

"Readers are let in on a secret in this story of a white dog that appears to spend much of his time perched on his knobby haunches and staring. When George's family calls to him—'Here, George!'—George stays perfectly still: 'George does not move.' After watching 'the man and the lady and the child drive away' (they never appear on the page) and taking a nap, George perks up at the sound of distant music. Unexpectedly, 'now George is dancing. And dancing. And dancing.' Once George's family comes home and calls out to him, Boynton and Booth return to the previous formula: 'George does not move, except for his happy tail.' New Yorker cartoonist Booth demonstrates his keen sense of the comedy to be found in contrast, as George goes from being nonresponsive and glum to kicking up his heels when no one is watching."
— Publishers Weekly
Boynton Bookworks, 9781534429642, 32pp.
Publication Date: May 1, 2018
About the Author
Sandra Boynton is a popular American cartoonist, children's author, songwriter, producer, and director. Since 1974, Boynton has written and illustrated over seventy-five children's books and seven general audience books, including five New York Times bestsellers. More than 85 million of her books have been sold, "mostly to friends and family," she says. She has also written (with Michael Ford) and produced six albums of renegade children's music. Three of her six albums have been certified Gold (over 500,000 copies sold) and Philadelphia Chickens, nominated for a Grammy, has been certified Platinum (over 1 million copies sold). Boynton has also directed twelve music videos of her songs, including the award-winning "One Shoe Blues" starring B.B. King, "Alligator Stroll" starring Josh Turner, and "Tyrannosaurus Funk" (animated) sung by Samuel L. Jackson. She lives in rural New England, and her studio is in a barn with perhaps the only hippopotamus weathervane in America.

George Booth is a long-time cartoonist for The New Yorker. His illustrations have become an iconic feature of the magazine. He lives in Brooklyn, New York.