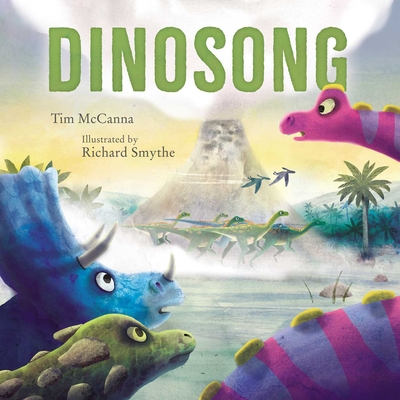 Dinosong
Hardcover

* Individual store prices may vary.
Description
"A rousingly rumbly ramble." —Kirkus Reviews

The Land Before Time meets Eric Carle in this delightful read-aloud featuring "melodious and spare" (USA TODAY) language by master storyteller Tim McCanna.

Follow a triceratops, a sauropod, and an ankylosaur on a prehistoric adventure filled with sights and sounds identified by playful onomatopoeia.

Chip.
Chop.
Flip.
Flop.
Shatter.
Scatter.
Smack.

Vibrant illustrations and crisp, fun language make this the perfect read-aloud, and backmatter about rock types and more inform curious readers about the world dinosaurs lived in.
Praise For Dinosong…
Sparse, rhythmic, and rhyming narration ("Rumble shiver/ grumble quiver/ SMASH!/ FLASH! JUMP!") follows an ankylosaur, a triceratops, and a sauropod, among other dinosaurs, as they seek shelter before an impending volcanic eruption. The movements of each being are transcribed in gently calligraphic typography, which often evokes characteristics of the onomatopoeic prose ("whack" and "smack," for example, enact the actions upon one another). Rendered in vibrant watercolors and finished digitally, the illustrations recall classic picture books with layered watercolors and stylized landscapes. The art portrays the dinos from a variety of angles, bestowing emotion through creative framing and simple facial features. A simple readaloud ideal for those who favor sound effect-based narratives. Back matter includes a glossary of relevant paleontology and geology vocabulary. Ages 4-8. (Aug.)
— Publishers Weekly

Modeled on their Watersong (2017) McCanna pairs a text composed nearly exclusively of sound-effect words to Smythe's bright and sprightly views of a triceratops, an ankylosaurus, and a generic sauropod, all sporting smiles, googly eyes, and hides in glowing hues. They cross a log over a stream, lumber through a rocky landscape as thunder rumbles, and tumble into a dark cave to escape the eruption of a nearby volcano. . . . Definitely a rousingly rumbly ramble.
— Kirkus Reviews

The team behind Watersong shares the adventures of three young Cretaceous- era dinosaurs—a triceratops, an ankylosaurus, and a sauropod—using only spare, rhyming, onomatopoeic words. The three dinosaur friends, rendered in bright pastels with oversized eyes, enjoy exploring their world until a violent thunderstorm and a volcanic eruption put an end to their rough-and-tumble adventures. On the two-page spread where the magma explodes from the volcano, few words are used: "Shuffle scuffle. Slam bam BOOM!" . . . The layout of text, which readers will want to sound out, gives predominance to the vivid illustrations, which make excellent use of contrast and color. . . . Preschoolers will enjoy the simple language and bright colors of this dinosaur story.
— School Library Journal
Simon & Schuster/Paula Wiseman Books, 9781534430020, 32pp.
Publication Date: August 4, 2020
About the Author
Tim McCanna is the author of Bitty Bot, Bitty Bot's Big Beach Getaway, Dinosong, and Watersong, which was called a "joyful, gorgeous book" by Booklist. When he's not writing books for children, Tim enjoys volunteering for SCBWI and taking trips to the beach. Tim has worked in advertising, written musicals, and played accordion in several bands before becoming a children's book author. He lives in San Jose, California, with his wife and two kids. Visit him at TimMcCanna.com.

Richard Smythe is making a splash in the book world with Beep Beep Beep Time for Sleep, Watersong, Dozy Bear and the Secret of Sleep, and Dinosong. He's been drawing since he was little, when he would deface his sister's homework. Since then he has received an MFA in illustration from the University of Hertfordshire. Richard lives in the United Kingdom. Visit him online at Richard-Smythe.co.uk.