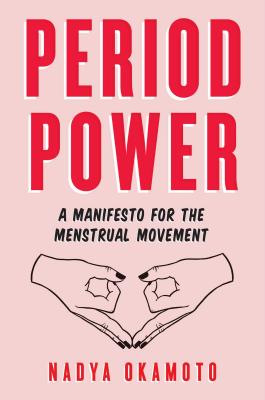 Period Power
A Manifesto for the Menstrual Movement
Paperback

* Individual store prices may vary.
Other Editions of This Title:
Digital Audiobook (10/15/2018)
Hardcover (10/16/2018)
Compact Disc (10/16/2018)
Description
PERIOD founder and Harvard College student Nadya Okamoto offers a manifesto on menstruation and why we can no longer silence those who bleed—and how to engage in youth activism.

Throughout history, periods have been hidden from the public. They're taboo. They're embarrassing. They're gross. And due to a crumbling or nonexistent national sex ed program, they are misunderstood. Because of these stigmas, a status quo has been established to exclude people who menstruate from the seat at the decision-making table, creating discriminations like the tampon tax, medicines that favor male biology, and more.

Period Power aims to explain what menstruation is, shed light on the stigmas and resulting biases, and create a strategy to end the silence and prompt conversation about periods.
Praise For Period Power: A Manifesto for the Menstrual Movement…
"A must-read for anyone who wants to make change at the state and national levels."
— Mashable

"If you're looking for a way to turn your anger about gender inequality into action, this book is a must read. You'll learn a great deal about menstrual inequities and the intersectional impacts created because of our failure to address them. This is a how-to handbook on what you can do to change that."
— Former state Senator Wendy Davis

"Period Power, much like it's author Nadya Okamoto, is insightful and impossible to ignore. I've found empowerment in her prose, and inspiration in her lack of shame. This book teaches adults and youths alike to be unapologetically proud to bleed. If someone you love has a vagina then Period Power is required reading."
— Whitney Bell, activist and founder of Kidd Bell

*"[T]ruly intersectional and…a useful guide for activists inspired by this work…A smart, honest, and comprehensive education on movement building and menstrual rights."
— Kirkus Reviews, starred review

"Okamoto intends to end menstrual stigma and taboo--full stop. This book is a game-changer for anyone who has ever had a period—or knows anyone who has had or will have one."
— Alma Gottlieb, co-author of Blood Magic: The Anthropology of Menstruation

"A true manifesto, Period Power is the book my fourteen-year-old self wished for and the one my adult self desperately needed."
— Ally Maki, actress and star of TBS's Wrecked

"Nadya Okamoto has written a quintessential manifesto for the leader in all of us. Her infectious passion, wit, and piercing intelligence will inspire you to rise into your bravest self. Moreover, this book and her voice have the power to help us learn self-love and respect, in a deep, authentic, lasting way. Not only will this book change your life, it will change the world. Nadya Okamoto is a revolution."
— Reema Zaman, author of I Am Yours

"Period Power is the latest in the growing list of gifts that author and activist Nadya Okamoto has bestowed on this world. In her book one can glean her dedication to ending period stigma and her effervescent and infectious enthusiasm for human rights. Period Power is a necessary and empowering take on menstruation that everyone should add to their personal library."
— Blair Imani, activist and founder of Equality for HER

"Period Power is a must-read for women and men to educate themselves both on the history and stigma of menstruation, period policy, and its representation in the media -- but also concrete action items for making a difference. Nadya's ability to combine knowledge with action is what makes Period Power so powerful."
— Caity Begg, founder of Authentic.Social

"Nadya Okamoto's Period Power takes a brave, necessary look at menstruation. Filled with both personal narratives and historical context, this book should be required reading for not just young students around puberty age, but adults as well. We must, as a society, reframe and relearn how we discuss and understand bleeding, and Okamoto's book is a necessary first step."
— Annie E. Clark, Former Executive Director of End Rape on Campus and co-author of We Believe You: Survivors of Campus Sexual Assault Speak Out

"Nadya is a paradigm changer. Period Power exposes the true cost of a society too embarrassed to talk about this universal issue, but also offers a plan of action that is humanizing to the individual and grand in enough in scope to change our culture forever."
— Cherie Hoeger, found of Saalt Cup

"Nadya's spirit and period positivity explodes throughout this book. Reading about the menstrual movement through the lens of a young menstruator is refreshing and truly gives me hope for the future."
— Claire Coder, CEO Aunt Flow

"This book is very interesting as it addresses an important issue related to the power of women. I hugely recommend you read it and learn its wisdom."
— Muzoon Almellehan, youngest UNICEF ambassador

"Nadya Okamato's book, Period Power, is filled with information crucial to being a good person in this world. Periods affect more than half of the world's population. If this blurb makes you uncomfortable because I'm talking about menstruation, you NEED to read this book. Change the cycle."
— Schuyler Bailar, transgender man on the Harvard swim team

"Okamoto writes with passion and power, her voice clear and straightforward…[an] empowering book."
— Booklist

"Since the beginning of time, women have been made to feel ashamed of their bodies and their periods. It has even been a barrier to women and girls ability to have and seek access to education and or employment. Its time we remove the stigma and create space for honest and informative conversation about menstruation, one that doesn't leave anyone out. Period Power helps us get there."
— Jamira Burley, Head of Youth Engagement and Skills for the Global Business Coalition for Education

"Nadya is a powerhouse helping to lead the menstrual movement in this country. This book is a must read for anyone who sees the need to smash the shame around periods."
— Assemblymember Linda B. Rosenthal

"A must-read for anyone committed to gender equity. Nadya Okamoto educates and activates in her personal manifesto aimed at getting rid of the stigma around periods and beginning honest conversations. Her mission includes changing policies which cause menstruators to experience financial burdens and social separation based on a normal life cycle event for half of the world's population. It is well-past time to talk and act, and Nadya's book is a great anthem to organize the movement."
— Kathleen Sebelius, 21st Secretary of the US Department of Health and Human Services
Simon & Schuster Books for Young Readers, 9781534430204, 368pp.
Publication Date: October 16, 2018
About the Author
Nadya Okamoto grew up in Portland and currently attends Harvard College. She is the founder and executive director of PERIOD (Period.org), an organization she founded at the age of sixteen, which is now the largest youth-run NGO in women's health, and one of the fastest growing ones here in the United States. She is also the cofounder and spokesperson of Next Fellows (NextFellows.org). In 2017, Nadya ran for office in Cambridge, Massachusetts. While she did not win, her campaign team made historic waves in mobilizing young people on the ground and at polls.