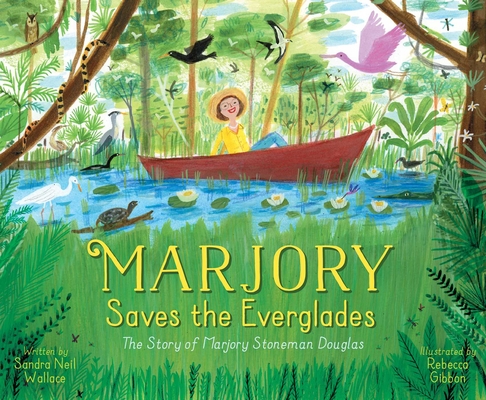 Marjory Saves the Everglades
The Story of Marjory Stoneman Douglas
Hardcover

* Individual store prices may vary.
Description
"Vibrant…an ideal starting point for further learning." —School Library Journal
"A lively portrayal of Douglas as a remarkable individual and a significant environmental activist." —Booklist

From acclaimed children's book biographer Sandra Neil Wallace comes the inspiring and little-known story of Marjory Stoneman Douglas, the remarkable journalist who saved the Florida Everglades from development and ruin.

Marjory Stoneman Douglas didn't intend to write about the Everglades but when she returned to Florida from World War I, she hardly recognized the place that was her home. The Florida that Marjory knew was rapidly disappearing—the rare orchids, magnificent birds, and massive trees disappearing with it.

Marjory couldn't sit back and watch her home be destroyed—she had to do something. Thanks to Marjory, a part of the Everglades became a national park and the first park not created for sightseeing, but for the benefit of animals and plants. Without Marjory, the part of her home that she loved so much would have been destroyed instead of the protected wildlife reserve it has become today.
Praise For Marjory Saves the Everglades: The Story of Marjory Stoneman Douglas…
WALLACE, Sandra Neil. Marjory Saves the Everglades: The Story of Marjory Stoneman Douglas. illus. by Rebecca Gibbon. 56p. S. & S./Paula Wiseman Bks. Sept. 2020. Tr $18.99. ISBN 9781534431546.

K-Gr 3–This vibrant biography details the life of Marjory Stoneman Douglas. Douglas fell in love with the natural beauty of Florida at a very young age, and that passion followed her into adulthood. When World War I broke out, Douglas decided to enlist in the Navy. Soon thereafter, she joined the Red Cross and traveled to Europe. When she returned to Florida, Douglas was appalled to see the devastation that relentless construction had created. She was equally shocked to hear people proclaim, "Drain the Everglades!" Determined to gain knowledge and use her voice to implement change, Douglas committed to a life of environmental activism. Gibbon's watercolor illustrations shine, evoking the richness of Florida wildlife. The text is spare but compelling, emphasizing the many times Douglas had to fight the same battles over the years and convince new people of the importance of her mission. The further reading section offers an extensive list of suggestions, an illustrated guide to the plant and animal life mentioned in the text, and resources. VERDICT A lively addition to biography collections and an ideal starting point for further learning.–Savannah Kitchens, Parnell Memorial Lib., Montevallo, AL
— School Library Journal

After WWI, Marjory Stoneman Douglas, a newspaper reporter in Miami, worried that land developers were ruining the Florida she loved, and she wrote articles about the issue. In 1930, when she was 40, a boat trip opened her eyes to the incredible diversity of plants and animals living in the Everglades. She joined a committee determined to convince National Park Service officials to make the Everglades a national park. Rejected at first, they succeeded only after taking the officials on a flight above the beautiful region. Decades later, when the Army Corps of Engineers began constructing a jetport in the Everglades, Douglas helped rally the support needed to end the project and begin the restoration of the Everglades. A helpful time line appears in the back matter. The sunny illustrations, created with acrylic inks and colored pencils, are particularly effective at capturing the beauty of nature. While some details in the text will need explanation for its primary-grade audience, this picture book provides a lively portrayal of Douglas as a remarkable individual and a significant environmental activist.
— Booklist

Marjory Saves the Everglades will inspire children of today and tomorrow to be persistent and follow their dreams to create a better world. Sandra Neil Wallace captures Marjory's passionate commitment to justice for our natural world and all of its inhabitants.
— Eve Samples, Executive Director, and Connie Washburn, Board Member, Friends of the Everglades
Simon & Schuster/Paula Wiseman Books, 9781534431546, 56pp.
Publication Date: September 22, 2020
About the Author
Sandra Neil Wallace hopes that her stories inspire readers as much as they inspire her. Her most recent book, Between the Lines: How Ernie Barnes Went From the Football Field to the Art Gallery, illustrated by Bryan Collier, received the Orbis Pictus Book Award, was an ALA Notable Book and a Booklist Top 10 Biography for Youth. Her novel, Muckers, was named a Booklist Top 10 Sports Book for Youth. Formerly, Sandra was an ESPN reporter and was the first woman to host an NHL broadcast. She lives in New Hampshire with her family. You can visit her at SandraNeilWallace.com.

Rebecca Gibbon is the illustrator of many picture books, including Elizabeth Leads the Way, an ALA Notable Book, and Celebritrees. She lives in England with her family.