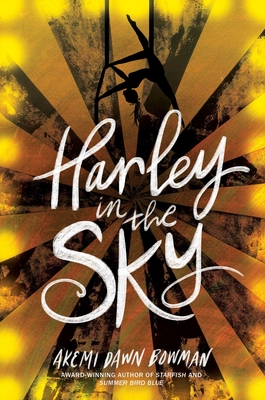 Harley in the Sky (Hardcover)
Simon Pulse, 9781534437128, 416pp.
Publication Date: March 10, 2020
* Individual store prices may vary.
Description
The Greatest Showman meets This Is Us by way of Sarah Dessen in this heart-wrenching, hopeful contemporary novel about a multiracial teen who risks it all to follow her dreams by joining the circus, from the critically acclaimed author of Starfish.

Harley Milano has dreamed of becoming a trapeze artist for as long as she can remember. With parents who run a famous circus in Las Vegas, she spends almost every night in the big top watching their lead aerialist perform, wishing with all her heart and soul that she would be up there herself one day.

After a huge fight with her parents, who continue to insist she go to school instead, Harley leaves home, betrays her family, and joins the rival traveling circus Maison du Mystère. There, she is thrust into a world that is both brutal and beautiful, where she learns the value of hard work, passion, and collaboration. At the same time, Harley must come to terms with the truth of her family and her past—and reckon with the sacrifices she made and the people she hurt in order to follow her dreams.

From award-winning author Akemi Dawn Bowman comes a luminous, unforgettable examination of love, loyalty, and the hard choices we must make to find where we truly belong.
About the Author
Akemi Dawn Bowman is the author of Starfish, Summer Bird Blue, Harley in the Sky, and The Infinity Courts. She is also a Ravenclaw and Star Wars enthusiast, who served in the US Navy for five years and has a BA in social sciences from University of Nevada, Las Vegas. Originally from Las Vegas, she currently lives in Scotland with her husband, two children, and their Pekingese mix.
Praise For Harley in the Sky…
PRAISE FOR SUMMER BIRD BLUE

A Junior Library Guild Selection
A Kirkus Best Book of the Year
A New York Public Library Best Book of the Year

"A lyrical novel about grief, love, and finding oneself in the wake of a tragic loss." —Bustle

"Gorgeous prose and heartbreaking storytelling." —Paste Magazine

"Grabs your heart and won't let go." —Book Riot

"Will leave readers breathless." —Booklist, starred review

"A strikingly moving book about teenage grief." —Kirkus Reviews, starred review

"A stunning story filled with the healing power of friendship, family, and music. . . . The language is extraordinary." —School Library Journal, starred review

"Achingly beautiful and exquisitely crafted, Summer Bird Blue is an emotionally raw and utterly honest story about loss, about hope, and about finding the courage to sing your own song. Akemi Dawn Bowman's writing is lyrical and full of life. I was riveted from the first page." —Samira Ahmed, New York Times bestselling author of Love, Hate & Other Filters

"Summer Bird Blue is a quiet but powerful exploration of music and love, and their ability to heal grief over time. Like my favorite sad songs, this book settled deep into my heart and refused to let go." —Brandy Colbert, author of Little & Lion and Finding Yvonne

"Summer Bird Blue brings us the gift of Rumi, unflinchingly honest in herself, her music and the ways she loves and doesn't. I got (sobbingly) lost in the rhythms of this beautiful exploration of what it means to grieve when you haven't figured out who you are or your place in the world. With a Hawaiian setting so vividly alive that it becomes essential to Rumi's healing, this is a gut-wrenching, must-read novel." —S.K. Ali, award-winning author of Saints and Misfits

"A beautifully complex exploration of grief, guilt, and the healing power of art and friendship. Akemi Dawn Bowman's Summer Bird Blue will make your heart ache and leave your soul hopeful." —Ashley Herring Blake, author of Suffer Love and Girl Made of Stars



PRAISE FOR STARFISH

A 2018 William C. Morris Award Finalist
A New York Public Library 2017 Best Book for Teens
A Junior Library Guild Selection

"An empowering novel that will speak to many mixed-race teens." —Publishers Weekly, starred review

"A stunningly beautiful, highly nuanced debut." —Booklist, starred review

"Readers living with anxiety or depression will immediately identify with Kiko. . . . a deep and engaging story that will not only entertain but also may encourage readers to live their best lives." —School Library Journal

"Vividly captures the identity struggles of a biracial young adult searching to find her place in two worlds." —BCCB

"Bowman gives a powerful voice to silenced victims of sexual abuse through Kiko, whose transformation from meek and afraid into powerful and strong is incredibly moving." —VOYA

"Dazzling." —Bustle

"One of the most compelling reads of the year." —Paste Magazine

"This book is a gem." —BookRiot

"A vibrant, complex and heartfelt story about finding your place in a sharp-edged world that never makes it easy." —Kelly Loy Gilbert, author of Conviction and Picture Us in the Light

"Akemi Dawn Bowman's quietly dazzling debut novel gave me the sensation of looking into a mirror. This story is a knockout, at once an incisive portrait of family dysfunction, a nuanced depiction of Asian-American adolescence, and an artist's vibrant coming-of-age—a story so specific as to be universal. Brimming with confessional intimacy and the furious strength of empowerment, Starfish feels like the ache of being lost and the relief of finding home." —Riley Redgate, author of Seven Ways We Lie and Noteworthy

PRAISE FOR SUMMER BIRD BLUE

A Junior Library Guild Selection
A Kirkus Best Book of the Year
A New York Public Library Best Book of the Year

"A lyrical novel about grief, love, and finding oneself in the wake of a tragic loss." —Bustle

"Gorgeous prose and heartbreaking storytelling." —Paste Magazine

"Grabs your heart and won't let go." —Book Riot

"Will leave readers breathless." —Booklist, starred review

"A strikingly moving book about teenage grief." —Kirkus Reviews, starred review

"A stunning story filled with the healing power of friendship, family, and music. . . . The language is extraordinary." —School Library Journal, starred review

"Achingly beautiful and exquisitely crafted, Summer Bird Blue is an emotionally raw and utterly honest story about loss, about hope, and about finding the courage to sing your own song. Akemi Dawn Bowman's writing is lyrical and full of life. I was riveted from the first page." —Samira Ahmed, New York Times bestselling author of Love, Hate & Other Filters

"Summer Bird Blue is a quiet but powerful exploration of music and love, and their ability to heal grief over time. Like my favorite sad songs, this book settled deep into my heart and refused to let go." —Brandy Colbert, author of Little & Lion and Finding Yvonne

"Summer Bird Blue brings us the gift of Rumi, unflinchingly honest in herself, her music and the ways she loves and doesn't. I got (sobbingly) lost in the rhythms of this beautiful exploration of what it means to grieve when you haven't figured out who you are or your place in the world. With a Hawaiian setting so vividly alive that it becomes essential to Rumi's healing, this is a gut-wrenching, must-read novel." —S.K. Ali, award-winning author of Saints and Misfits

"A beautifully complex exploration of grief, guilt, and the healing power of art and friendship. Akemi Dawn Bowman's Summer Bird Blue will make your heart ache and leave your soul hopeful." —Ashley Herring Blake, author of Suffer Love and Girl Made of Stars



PRAISE FOR STARFISH

A 2018 William C. Morris Award Finalist
A New York Public Library 2017 Best Book for Teens
A Junior Library Guild Selection

"An empowering novel that will speak to many mixed-race teens." —Publishers Weekly, starred review

"A stunningly beautiful, highly nuanced debut." —Booklist, starred review

"Readers living with anxiety or depression will immediately identify with Kiko. . . . a deep and engaging story that will not only entertain but also may encourage readers to live their best lives." —School Library Journal

"Vividly captures the identity struggles of a biracial young adult searching to find her place in two worlds." —BCCB

"Bowman gives a powerful voice to silenced victims of sexual abuse through Kiko, whose transformation from meek and afraid into powerful and strong is incredibly moving." —VOYA

"Dazzling." —Bustle

"One of the most compelling reads of the year." —Paste Magazine

"This book is a gem." —BookRiot

"A vibrant, complex and heartfelt story about finding your place in a sharp-edged world that never makes it easy." —Kelly Loy Gilbert, author of Conviction and Picture Us in the Light

"Akemi Dawn Bowman's quietly dazzling debut novel gave me the sensation of looking into a mirror. This story is a knockout, at once an incisive portrait of family dysfunction, a nuanced depiction of Asian-American adolescence, and an artist's vibrant coming-of-age—a story so specific as to be universal. Brimming with confessional intimacy and the furious strength of empowerment, Starfish feels like the ache of being lost and the relief of finding home." —Riley Redgate, author of Seven Ways We Lie and Noteworthy