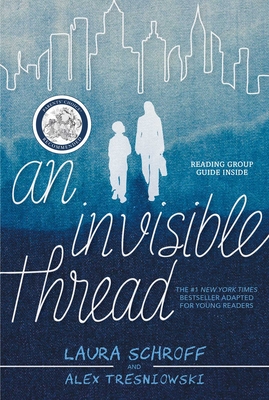 An Invisible Thread
A Young Readers' Edition
Paperback

* Individual store prices may vary.
Other Editions of This Title:
Hardcover (5/7/2019)
MP3 CD (6/28/2019)
Compact Disc (6/28/2019)
Description
From #1 New York Times bestselling authors Laura Schroff and Alex Tresniowski comes the young readers edition of an unbelievable memoir about an unlikely friendship that forever changed the lives of a busy sales executive and a hungry eleven-year-old boy.

On one rainy afternoon, on a crowded New York City street corner, eleven-year-old Maurice met Laura. Maurice asked Laura for spare change because he was hungry, and something made Laura stop and ask Maurice if she could take him to lunch.

Maurice and Laura went to lunch together, and also bought ice cream cones and played video games. It was the beginning of an unlikely and magical friendship that changed both of their lives forever.

An Invisible Thread is the true story of the bond between an eleven-year-old boy and a busy sales executive; a heartwarming journey of hope, kindness, adventure, and love—and the power of fate to help us find our way.
Praise For An Invisible Thread: A Young Readers' Edition…
A Parents' Choice Recommended Award winner

"Young readers will be inspired by this beautiful friendship, which demonstrates how a simple act of kindness can make a difference."
— Booklist

"The lifelong lessons you learn challenge you to be a better you. I think it should be required reading for middle schoolers, we could all learn a lesson from Laura and Maurice's relationship." –Clare Goldshool, twelve-years-old, 7th grade

"[An Invisible Thread] shows you can overcome difficult obstacles." –Grace Goldsholl, nine-years-old, 4th grade

"I felt happy, nervous and excited for Maurice at times while reading it. This book taught me about kindness, thoughtfulness and selflessness.–Juliet Jackson, ten-years-old, fifth grade

"I particularly liked how Maurice was so confident and positive. It made me realize how lucky me and my friends are and how easy our life is." –Dashiell Lubsen, nine-years-old, 3rd grade

"I felt like Maurice and Laura were there with me sharing their story and special friendship. I learned that even when things seem hopeless, there are people who really care and will help."—Ella Michalisin, ten-years-old, 5th grade

"We should all help each other more. I think Maurice and Laura are great role models." –Liam Michalisin, twelve-years-old, 7th grade

"In Laura's situation, she was able to help change Maurice's life by being kind and this is amazing."—Calli Reid, eleven-years-old, 6th grade

"[An Invisible Thread] taught me to treat people with respect and with kindness. After reading this book I will now be more grateful for the things and family I love." –Lila Smith, eight and a half years old, 3rd grade
Simon & Schuster Books for Young Readers, 9781534437289, 240pp.
Publication Date: May 5, 2020
About the Author
Laura Schroff is a former advertising sales executive who worked for over thirty years with several major media companies and publications, including Time Inc. and People. Her book, An Invisible Thread, became an instant New York Times bestselling book and later was a #1 New York Times and international bestseller. As a keynote speaker at over 300 events for schools, charity organizations, libraries, and bookstores, Laura encourages her audience to look for their own invisible thread connections and highlights the importance of opening up their eyes and hearts to the opportunities where they can make a difference in the lives of others. She lives in Westchester, New York, with her feisty poodle, Emma.

Alex Tresniowski is a writer who lives and works in New York. He was a writer for both Time and People magazines, handling mostly human-interest stories. He is the author or coauthor of more than twenty books. For more about this story and the author, please visit AlexTres.com.